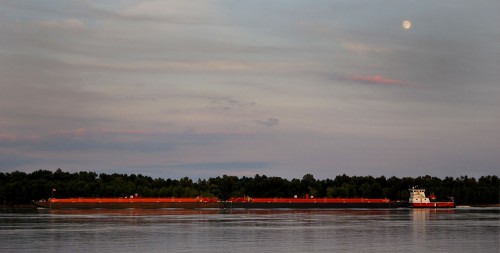 After dinner, Mother and I took a drive down to the river where we were treated to a panorama of a barge crossing under a beautiful moonrise. If the moon wasn't full, it was close enough for me. (Click on any photo to make it larger.)
I'm getting ahead of the story.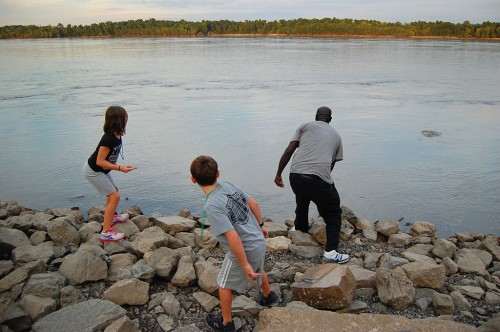 But, the moonrise photo is putting the cart before the horse. That was the last thing I shot. Let's take things in order.
I walked almost to the north end of the new river walk, then started back to the Broadway gate opening. The standard contingent of strollers, folks with folding lawn chairs, and just plain sitter-downers were gathering to enjoy the gentle breeze and welcome cool temperature.
My eye was drawn to a gentleman in a gray shirt who was teaching the Duncan kids how to skip rocks. He preferred to remain anonymous, so we'll call him Sir Skipper.
Gerry and Cassie Duncan of Kennett, and their three kids, Whitnee (11), Tanner (7) and Caleb (4) were on their way from Kennett to St. Louis for a Cardinals baseball game. They are fans of Broussards, so they stopped for a bite to eat, then decided to wander down to the river to let the kids burn off some energy.
Search for the ultimate skipping rock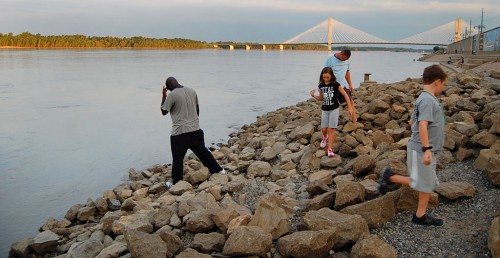 Sir Skipper explained to the children the the first step is to find "the ultimate skipping rock." They followed him up and down the riverbank like he was the Pied Piper, rushing up time and time again, rock in hand to ask, "Is this it?"
Caleb and Tanner work on style points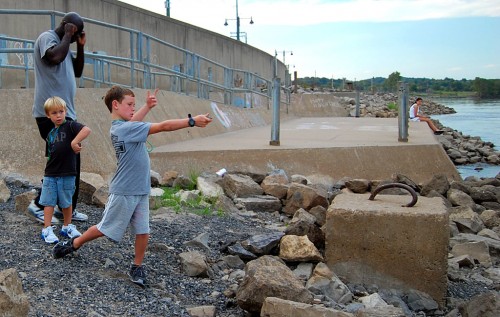 Before long, every male who passed by offered his own special skipping advice. (It must be a guy thing.) For the first half dozen or so throws, Caleb and Tanner were bigger on style than results.
"You throw like a girl"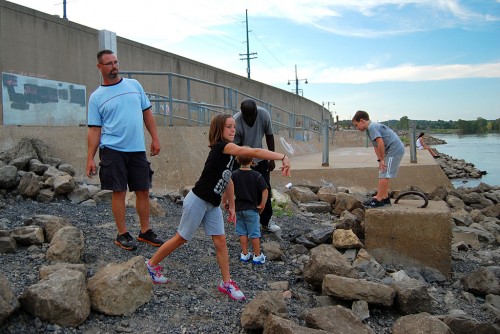 When I chided Whitnee for using an overhand throwing motion instead of a sideways flip – "You're throwing like a girl" – she immediately countered with, "It's because I AM a girl." It didn't take long for her to master the wrist flick that would send the rocks skipping.
Mom Cassie kept marveling, "This is free. It doesn't take batteries. It's not electronic…"
"MOM, I skipped one"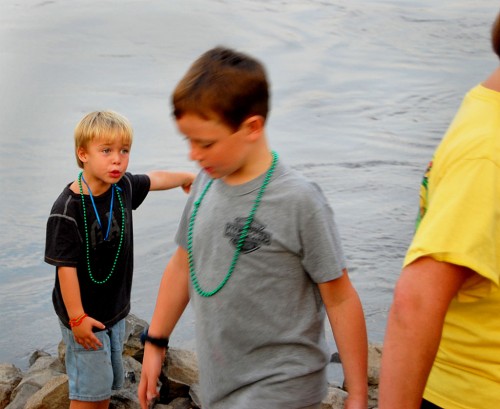 Caleb, at four, took a while to get the hang of skipping. When he DID start skipping as much as splashing, he expected to get noticed." MOM!!!! (dragged out to three syllables), I skipped one!"
"Do you remember….?"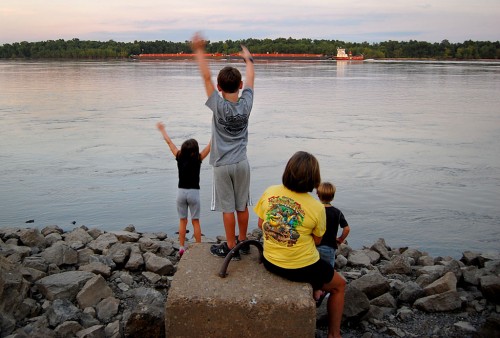 The kids took off a few minutes to watch a train go by, then to try to get a towboat to blow its whistle, but couldn't get the boat's attention. Dad was getting antsy to get on the road, but every entreaty to pack it in was met with "Just one more….."
I told Cassie that 30 years from now the kids may not remember the baseball game, but I bet at least one of them will start a conversation with "do you remember that guy who taught us how to skip rocks?"
And that, Dear Reader, gets us back up the first photo where you came in.