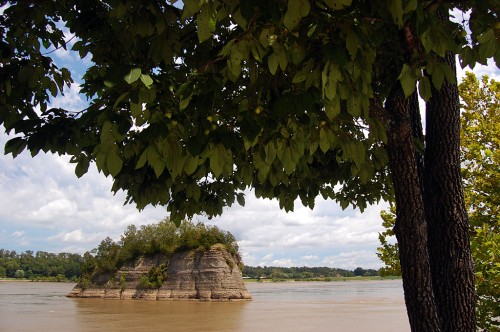 Mother's not going to be happy with me for writing about this.She considers this her personal secret stash of persimmons.
When I got my van back from LeGrand Bros Transmission, I wanted to give it a good workout before heading to Florida. The road from Cape Girardeau through Perry County to the washed-away community of Wittenberg was the right mixture of hills and curves to see if it had any kinks. The final test was to take it on the hilly gravel road that leads to one of my favorite places, Tower Rock on the Mississippi River.
We always make it a point to go up there during Mother's Birthday Season because there are some of the best persimmon trees we've ever seen at the overlook parking area. [Click on the photos to make them larger.]
Most persimmons don't ripen before frost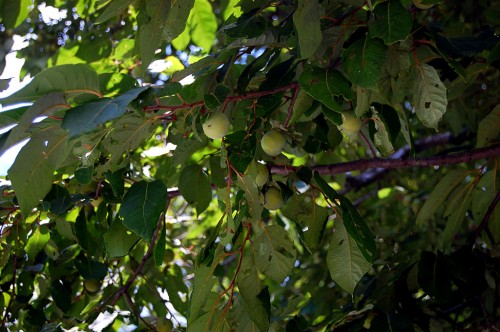 Almost every persimmon I've seen isn't ripe until after the first frost. I don't know if the frost provides something to make them sweet or if the timing is just right when the frost arrives.
Most persimmons will turn your mouth inside out if they are the least bit green. If it's ever happened to you, you know exactly what I'm talking about. If you haven't had it happen, come here. I have something I'd like for you to taste.
This tree doesn't need a frost
What's unusual about the fruit on this tree is that it ripens without a frost.
When I visited Tower Rock earlier in the spring, I thought this might be a light year. The rain and windstorms had knocked a lot of the fruit to the ground.
When we showed up today, the tree was loaded. Mother picked around on the ground until she found a couple that had fallen off the tree and had that rich, golden brown look. She wanted to taste persimmon a lot more than I was willing to risk, but she pronounced them good. If it had been Brother Mark, I wouldn't have trusted him, but your mother won't lie to you.
So, now I've let the secret out of the bag. I bet Brothers David and Mark just moved up a notch in the will.