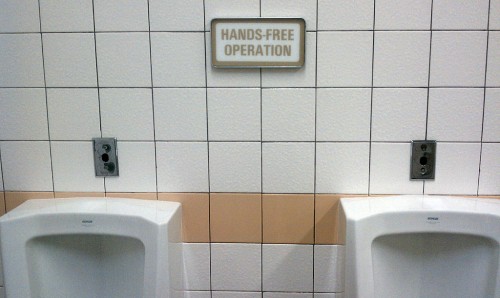 I pulled into West Palm Beach shortly after 6 p.m. Monday night. It was an incredibly smooth trip: the new transmission transmitted, traffic was fast and light. Either traffic going through Nashville, Chattanooga and Atlanta was a lot less congested than usual or my driving experiences in Seattle have made anything short of a one-hour parking lot seem fast.
I hit the Florida line's Welcome Center right about sunset Sunday night. The first thing I noticed was that our cost-conscious Governor Rick Scott had two signs (that I saw) telling everyone that he's the Gov. I called Wife Lila and Mother to let them know my progress, then I went in for a – as they say in the Tour de France – a natural break.
That's where I was greeted by a sign that had me a little worried. There are some things I'd rather do myself. I didn't know if robot arms were involved or if this was some kind of new stimulus project. I waited until the room had cleared out before I grabbed my cell phone to capture this photo. I was afraid to hang around too long lest someone mistake me for a Congressman and pull out handcuffs. The fly I saw at Lambert Airport was less unsettling.
Where's Hurricane Irene going?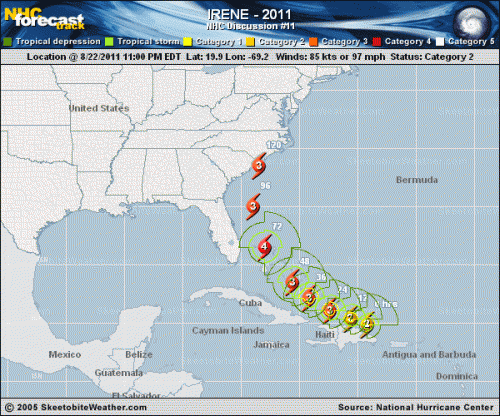 Last night's track was a bit troubling. You don't want to see your home right in the middle of a Cat 2 Cone of Uncertainty. The news tonight is both better and worse. Now it looks like it's going to be a Category 4 storm when it's offshore West Palm Beach. Offshore is a good thing, but it doesn't take much of a wobble to really spoil your day.
The tracking map, by the way, was done by SkeetobiteWeather. They do some of the best and most useful maps I've seen anywhere.
Tuesday's track will determine what I do next. I stopped in Ocala in central Florida to pick up bottled water, batteries, a new Coleman LED lantern, some Coleman chemcial Glow Lights and a selection of fruit.
I like Glow Lights
I'm a big fan of chemical glow sticks. They have a long shelf life, they're safe for kids to use and they throw out a surprising amount of light without generating heat. The Coleman lantern is very bright for using only four D-cell batteries. LEDs don't burn out like bulbs and they burn cooler. The one I bought looks like the same one in the link, but mine says it'll run 86 hours on high and 122 hours on low. It's a lot safer than the old-fashioned propane or white gas lantern with their delicate mantels. A more expensive model is available with rechargeable batteries, but I think that's a bad buy for an emergency light: if you don't use it all the time, the battery will be dead when you need it, and if the power's out, how are you going to charge it? A stack of alkaline batteries makes more sense.
I noticed I wasn't the only one with a cart full of water, but the clerk said they hadn't had a run on supplies yet. If it still looks close, I'll pull the generator out, change the oil, hook it into the gas line and fire it up for a test run. I adapted it to run on gasoline, propane or natural gas. Since we already had a line for our kitchen stove, hot water heater and clothes dryer, I tapped off it as fuel of first choice.