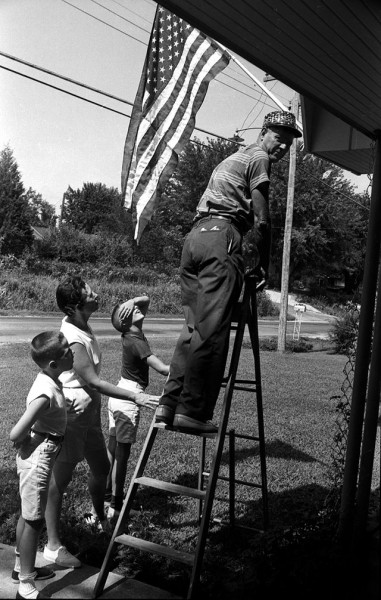 After seeing the great job Bill Adams did with his license plate American Flag, Mother said she'd like to fly a flag in front of the house. We were always big on putting up flags on holidays, but the flag holder Dad was using in this photo was taken down when the house was covered with vinyl siding some years ago.
Mother swore that there was a flag holder on one of the walnut trees on the east side of the house, but I rooted around through the ivy (hopefully not the poison variety) growing on the tree and couldn't find it. On the way back from learning about fly repelling in Jackson, I stopped at the Ace Hardware at the bottom of the hill for a new flag bracket. The screws that came with it were too short to go through the bracket and bark, so I had to scrounge some longer ones from the basement.
Mission accomplished.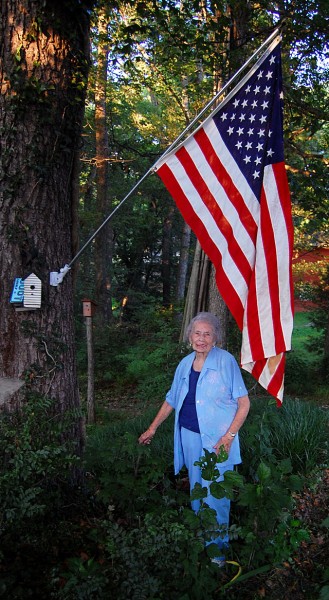 Just about the time I shot the last screw in, Mother gave out a triumphant shout, "I KNEW that flag holder was here on the tree. I was right." Indeed, she WAS right. The holder was right there on the tree where she said it would be. The only thing was that the tree had grown around it so much that you'd be lucky to stick a matchstick in it, let along a flag pole.
My First Grade Flag effort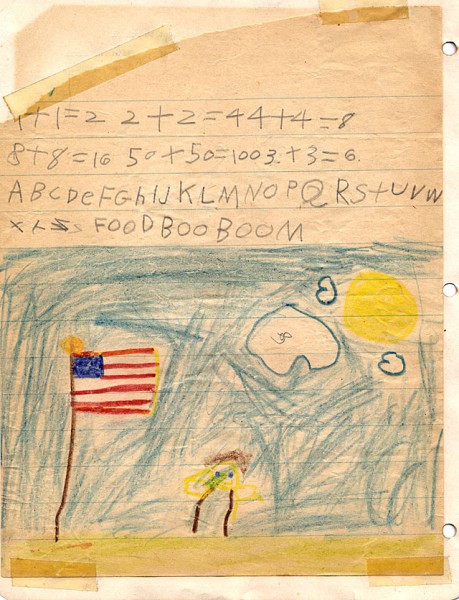 I know there are some photos of me with a flag because it was my daily ritual to put the flag up first thing in the morning when I was kindergarten age. The first thing I ran across was this piece of artwork from my First Grade Scrapbook. Dad was working on a job in Kennett at this time, so he told me to save all my school papers and remember what I had done that week so he could put it in a scrapbook.
Here's the scrapbook entry
Sept. 11, 1953 – We were allowed to draw or do what we wanted for awhile and I practiced on some addition and wrote the alphabet with a picture of a Flag in colors under my writing. Mrs. Kelpe is telling us a story on Pinky the Pig which she did not get to finish. We got a surprise today and it was a free ticket to get ice cream. The kids that had marks behind their name even got a ticket.
Note that I already understood the elements of a good story: food, scary mystery and explosive action. It was clear that I had a much better future in math and literature than art. If you don't believe me, take a look at my sketch book from Ohio University's Art 101, a required course for photo students.