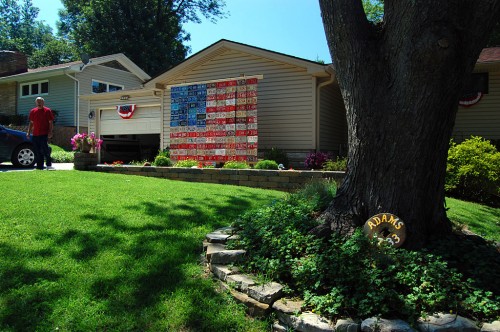 I overshot my street this morning and ended up going down Anna Street. About a third of the way down the hill, my eye was drawn to what I thought was a huge plastic flag hanging in front of 1733 Anna. I was almost halfway to the next house when I saw that it wasn't plastic, it was an American Flag made out of red, white and blue license tags. I hit the brakes and the go-back lever so fast I may have left black marks. (Click on any photo to make it larger.)
Bill Adams and his wife were walking out to the car with keys in hand, but Bill was kind enough to chat with me. His wife must have known what a talker he is when he encounters another talker, so she went back inside the house where it was cool.
Found license plates on eBay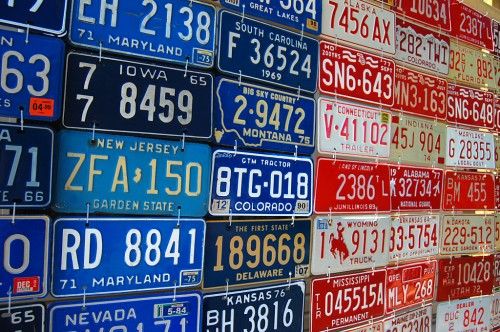 Bill, who said he isn't really a license plate collector, started acquiring his tags on eBay around November 2010, and snagged his last plate toward the end of January of this year.
The cheapest tags were about a buck each; the most expensive was $55. "I could have gotten them cheaper if I had waited around, but I wanted to get the project done," he said. Overall, the tags averaged about $7 to $10 each. His favorite tags are the ones with the state slogans on them. His least favorite are states like Delaware that have flat plate without embossed numbers and letters.
I think he said he had every state represented except Idaho, New Hampshire, Georgia and California.
Flag folds up for storage
After getting the plates, he spent a little time trying to figure out how to mount them. Instead of one large unit, he decided to string them together with Nylon ties so the whole contraption could be folded up into a storage container. The two support poles are made of two 2x4s joined together on each side and dropped into a 4×4 sleeve so they can be removed.
Bill is thinking about using the poles for other holidays, but he's not sure if he'll make the displays out of license plates. There are a lot of green and white tags, though, he said. Those would work out well for Christmas.
Riding the Mother Road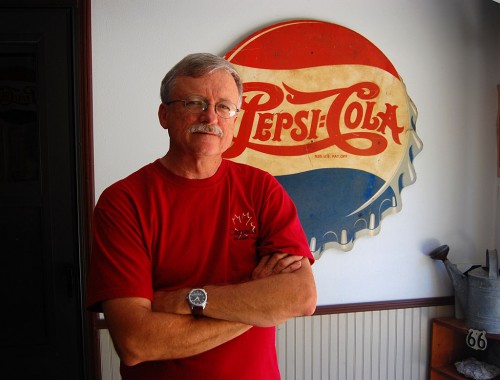 Bill just retired from a career as a postal carrier. "Retirement is great. For awhile, I thought I'd better make a list of things to do. That didn't mean I had to KEEP the list; I could put off a task to the next day, change priorities…"
One thing on his list is for the couple to take a trip to see their daughters in Seattle. They're going to fly this time, but Bill's other obsession is to drive every inch of Route 66, the Mother Road. He's managed follow it as far as the New Mexico-Texas border. "I'm not looking forward to Southern California and LA." He admits, however that even big cities can have quiet moments. They hit Chicago on a winter Sunday morning and had the road almost to themselves.