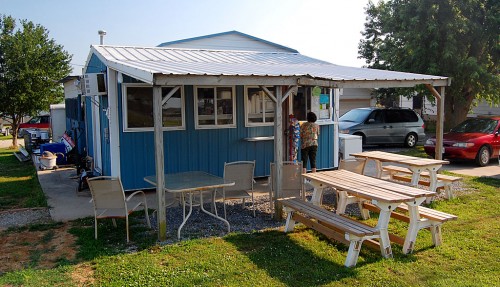 Mother and I were cruising around Jackson scoping out yard sales and looking for something for me to shoot. Out on 34 west of town, we saw a sign on a small BBQ stand that said Fresh Strawberry Pie. We pulled in to sample it  The joint doesn't have a name out front, but Google Maps show it as Cook's Bar-B-Q & Catering at 1931 West Jackson Blvd.
Right next to the order window was a note that said not to compare them with the guys at the north end of town. That would be Wib's, a Steinhoff favorite for five generations. They implied that Cook's actually puts meat on their sandwiches and that they are cheaper. Well, a challenge like that has to be checked out.
On the plus side, the sandwiches DID have a fair amount of meat on them and they were cheaper than Wib's. On the con side, at least for me, the pork was shredded, not sliced, and it was "wet." It had more the taste and feel of a Sloppy Joe than what I would call a good barbecue sandwich. The sauce was nowhere as good as Wib's and the meat wasn't as tasty as Hamburger Express in Cape. Barbecue is a highly personal choice, so some folks may prefer it.
The strawberry pie, on the other hand was excellent. Good crust and made with fresh strawberries.
Why are those bags of water hanging there?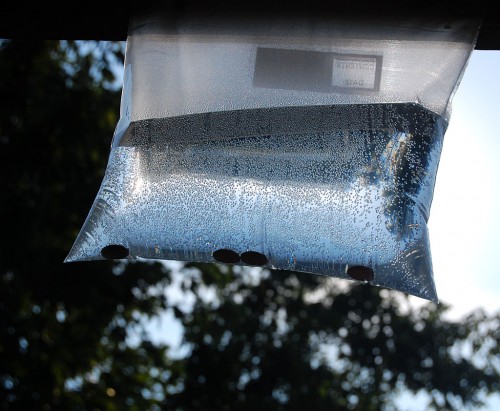 But, that's not the reason I'm writing this. When we looked up, we saw a Ziploc plastic bag, obviously freshly filled with water hanging over our heads. Inside the bag were several pennies. The bags were tacked to the overhang with heavy upholstery tacks. When our server slid open the screen-covered window to hand us our order, I said, "I bet I'm not the first person to ask this, but what's with the plastic bags of water?"
Not wanting to engage in a lengthy conversation, she said, "It's for the flies," closing the window before I could observe, "Must be working, then. 'Cause there's plenty of them."
While we were sitting at the outdoor table eating our pie and shooing off the occasional fly, a fellow walked by who elaborated on the bags. "They're supposed to keep the flies away. It's got something to do with the way the fly's eyes work."
When I mentioned that there still seemed to be a lot of the winged creatures flying around, he said that he had just put the bags up. The one over our heads was the first one to go up, he explained, and he said he could already see an improvement on our end of the seating area. I was going to take his word for it.
Mother was intrigued by the idea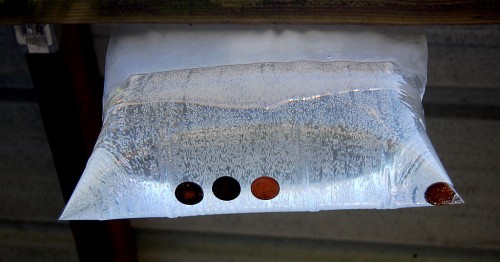 Mother kept coming up with all of the places she could put up the bags and wondering if shiny pennies would work better than run-of-the-mill pocket pennies. Should you put them over the door to keep the flies out or do you put them on the inside to run them away? If you did both, would the ones entering and the ones exiting have head-on collisions, killing them all? Weighing all of the possibilities kept her occupied the rest of the afternoon.
I did a quick Google search and found that one of my favorite debunking sites, Snopes, had addressed this issue and found it —WHAT?!?!?—"Undetermined. " You'll have to read their conclusions for yourself. It'll be good practice for you to know how to find them to check out your own hoax questions.
I should have shot them the first time
Anyway, after kicking myself for not taking a picture of the magic bags, Mother and I saddled up the pony and drove back over to Jackson. After standing around for several minutes waiting for someone to open the magic screened serving window so I could tell them what I was doing, I got tired of waiting, shot my photos and left. I didn't REALLY need another piece of that strawberry pie. I DID ask another customer if she had heard of the concept and she said, "My mother has them hanging in her garage."
We ended up at Mario's Pasta House where our lasagna was good as always, served promptly by friendly and attentive wait staff. (I started to type "weight staff," thinking, obviously, of the size of the portions.)