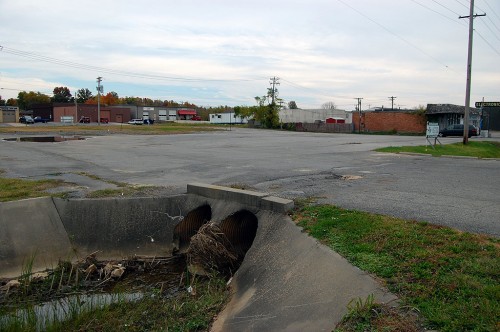 When I was a kid, there was a tiny building – I think it was white – at Bloomfield and Kingshighway that sold the cheapest gas in town.
The formal name was Thoni Oil Company, but everyone always called it Thoni's, pronounced Thone-Eyes. There was a price war once where I saw the cost of gas go down to 19 cents a gallon. That's as low as I've ever seen it anywhere since I got my license.
My family didn't buy gas there, probably because my Dad had heard rumors that the gas was "watered." On the other hand, other folks told me that they seen tankers from major oil companies making deliveries there. Who knows?
At Muny Airport
Airport news was worth a mention in the 50s. There is a column in The Missourian called At Muny Airport that reported on April 5, 1952, that Richard E. Thoni of Nashville flew here Monday in a Navion to attend to business in connection with the opening of a new filling station on Kingshighway here. He returned the same day.
The Mar. 6, 1953 Missourian dutifully reported that Richard Thoni of Nashville flew home Tuesday after attending business here in connection with his service station. He flew here Sunday in his Navion, using an automatic pilot.
There was a lawsuit filed in 1953 that said that Thoni Oil Company had 23 stations in Tennessee, Alabama and Kentucky. The Cape stati0n didn't merit mention.
Nothing left of Thoni's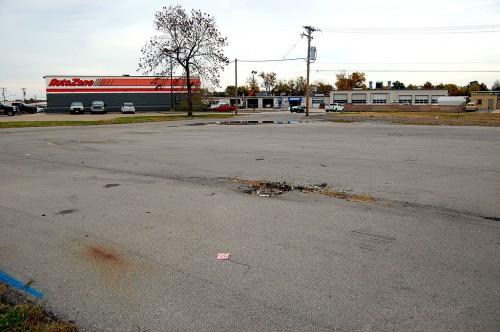 The 60s were pretty quiet, but The Missourian reported an armed robbery at the station Jan. 17, 1972. The bad guys got away in a stolen car with about $50. Then, in 1976, the soda machine at the station was broken into and $6 or $7 in change was taken.
The crime spree continued. On Oct. 7, 1977, The Missourian said that Charles Salvatore reported to police that a woman came into the office asking for change, and then grabbed a $10 bill from his hand and left in the company of three other persons.
I didn't find a story that told when the station closed.