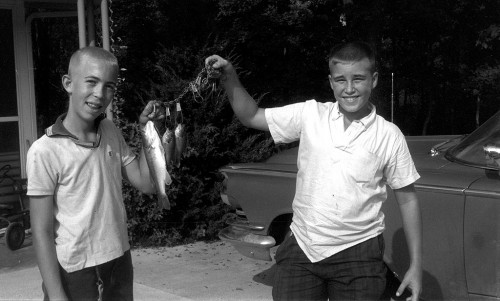 These two boys must have stopped by my house on their way back from fishing on Cape LaCroix Creek. I see my old toy tractor on the left behind them and the family's 1959 Buick LaSabre station wagon on the right.
I think the fellow on the left is one of the Fiehler boys and the fish killer on the right is Kent Verhines' brother (Brad?).
A lesson in photography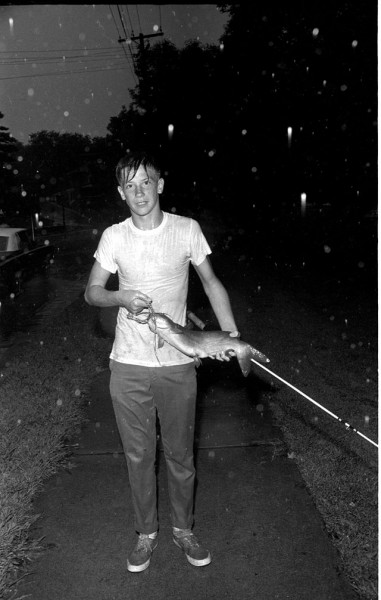 I ran into this boy on Broadway at Capaha Park. It was a rainy day around dusk, do I debated whether to shoot him with flash or available light.
The flash photo is crisper and more contrasty, but the raindrops reflected light back at the camera and the background went almost all black.
Available light photography
The available light shot isn't quite as sharp, but it more accurately captures the "drowned rat" look of the kid. I almost avoided flash whenever possible. After all, if God wanted you to use flash, he'd have lit the world with lightning instead of the steady light of the sun.
More kids in the rain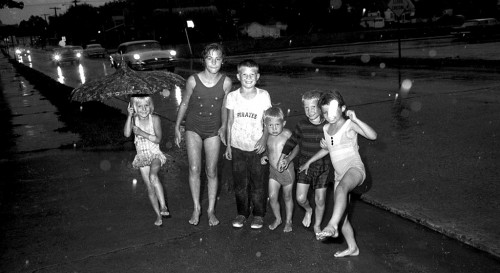 These kids were walking along splashing in puddles right about the time I saw the fisherman. You can tell it was shot with flash because of the light reflecting off the raindrops. That's the reason why you don't drive with your high beams on when it's snowing or foggy. The light will reflect back off the snow or fog.