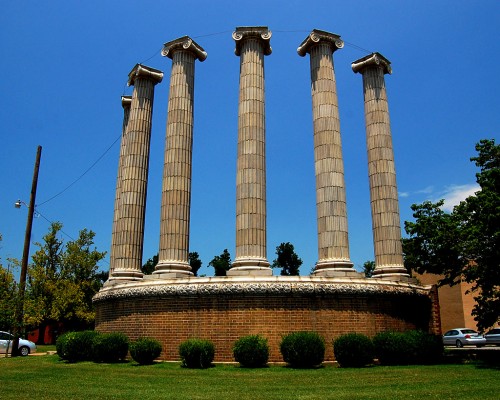 I had about 20 minutes to kill before a meeting in Sikeston Monday, so Mother and I cruised through the downtown area. I saw the railroad tracks had been torn up (too bad they didn't turn the right of way into a rails-to-trails) and the train depot turned into a nice museum. Just to the north of the main drag, I saw some stone columns sticking up.
"Those were a real big deal," Mother said. Some big, old church burned down and they salvaged the columns as a memorial, she elaborated.
Church dedicated in 1912; burned in 1968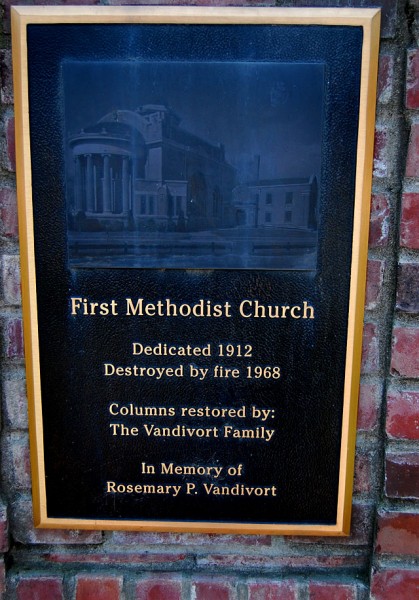 I couldn't find much information on the columns beyond a plaque on the north side that said the First Methodist Church was dedicated in 1912 and was destroyed by fire in 1968. The columns were restored by the the Vandivort family in memory of Rosemary P. Vandivort.
Google came up short and The Sikeston Standard Democrat didn't have much beyond a few Out of the Past columns that said the fire was in March of 1968. Somebody else is going to have to fill in the blanks.
Sikeston – Cape were debate rivals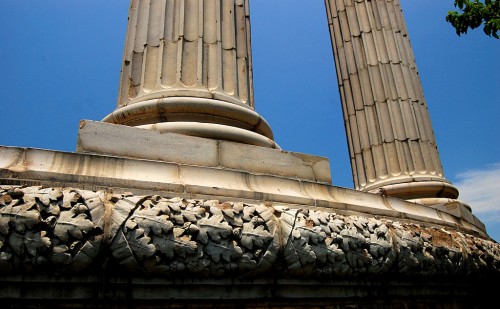 I came into town last fall just in time to cover my first Central High School football game in 40-some years, the clash between unbeaten Cape and Sikeston. I sure hope I wasn't the jinx that caused Central's 21-0 loss.
In our day, Jackson was the school to beat, particularly in football. I don't recall Sikeston being a big athletic rival, but I could be wrong.
In debate, though, Sikeston was a worthy opponent, maybe not feared, but respected. Most of the smaller schools around Cape didn't have the depth of talent to draw from nor coaches like Ruby Davis and Calvin Chapman. Sikeston, on the other hand, had good debaters and good coaches.
One of the most popular Sikeston debaters was John "Doc" Carpenter, who was also active in Scouts and Order of the Arrow. He was a bright guy who always seemed mature beyond his age. I published a photo of him working a wreck with Walter Joe Ford when I reviewed Jerry Ford's book The Gordonville Grove: Tombstones, Tambourines, & Tammany Hall. (Now in its third printing and available at Amazon by clicking that link). "Doc" went on to become Cape County coroner. He died of colon cancer in 2000.
Even though the schools were fierce competitors in individual events, they would work together at things like the Jefferson City Student Congress, forming alliances to get bills passed and to get their students elected to prestigious positions. We Swampeast Missourians enjoyed beating out the bigger schools in the state.