I've spent the past two days trying to find some folks I shot in New Madrid 44 years ago. It's a long, hot story that we'll cover later. My quest today took me to Sikeston, which isn't far from Dexter. I managed to convince Mother that riding around with me was more fun that mowing the lawn when the heat index is 114 (she was mowing the lawn, not me). This is a mowing photo taken several years ago in Dutchtown to show her style.
Madeline DeJournett, Advance reporter and avid reader of this blog, has been touting a new restaurant in Dexter called the Mediterranean Steak House "on Locust, south of the Ben Franklin store." That's the way you give directions when you live in a small town. There's no way to enter that in my GPS, so we got quite a tour of Dexter.
Dexter provided an education
I remember Dexter well. Jim Kirkwood and I got to help build Hwy 60 going through the town the summer that our two dads, L.V. Steinhoff and James Kirkwood of Steinhoff & Kirkwood, decided that we should learn the value of education. They wanted to get us smart enough NOT to do what they did for a living. I kept looking for a landmark that would help me find the stretch of road we helped pour, but it's changed a lot.
Anyway, at 33 minutes past Hungry o'clock, we pulled up in front of the steak house. It was closed on Monday. We went back to the main drag and passed predictable fast food joints.
Corner Stop Cafe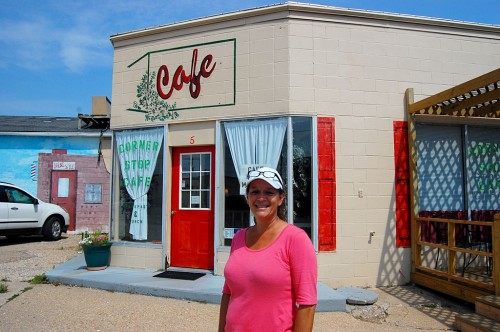 I thought I remembered see a small local diner just up the street from the steak house, so we headed back down Locust, past the Ben Franklin store, until we came to the Corner Stop Cafe. There were a few cars around it, it looked clean and it looked new, so we decided to give it a shot.
As soon as we opened the door, I felt right at home: a voice said, "Watch your step." I've been getting that advice for years, but then I looked down and saw that you had to step down to get into the restaurant. We apologized for showing up at closing time, but our server, who turned out to be the owner, was gracious. I asked for advice and Phyllis Kull said that she sells about 500 of their "Nothing Like It Chicken" a week, so it must be good.
The menu described it as "Chicken salad, cranberry, smoked Gouda cheese and Granny Smith apples slices, served on Texas toast." All of that, plus a side (some great potato salad) for six bucks. My foodie friend, Jan Norris would have taken a photo of the plate, but I had more important things in mind – finishing it off so I could have some strawberry pie. Mother had a bacon quiche (hold the bacon) with toast and a generous serving of fresh fruit. They forgot to hold the bacon, but it was served on top, so I got it and pronounced it excellent.
I apologize to Phyllis for sticking her outside where the lighting was so harsh. She's much more attractive than the picture would lead you to believe.
Mural done by local artist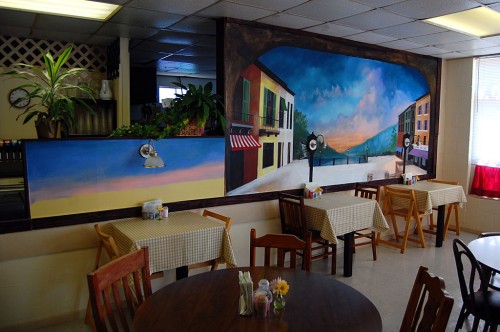 The inside of the cafe is attractive, without being cutesy. The mural, a work in progress, is being done by a local artist. Phyllis is from Colorado. Her husband, Alan, has family in the area, so they wanted to move closer to them. They opened the place March 16, 2010, and have been doing well. "Dexter is a great community. We've been blessed." One of the customers when we walked in was the mayor, she said.
I normally avoid sweet tea, but they had it just right. After being out in the hot sun, I downed three glasses of it. I told Phyllis that I had been shooting in a church in New Madrid Sunday when it was equally as hot. "When the preacher started talking about hell, fire and brimstone," I said, "I jumped to my feet and shouted, 'Thank you, Jesus, for bringing us some relief.' At first I thought I might not have that testifying thing figured out exactly right, but an old man in the back row hollered, 'AMEN,' so I guess I did OK."
Mother, who normally takes everything with a grain of salt, looked at me in horror and said, "You DIDN'T?" For once, I couldn't milk it for all it was worth. I had to tell her I was kidding.
How was the pie?
I ordered the strawberry and Mother had the blackberry. They used fresh fruit, but the filling was a Jello-style that I'm not really fond of. It was good, but not my favorite. Of the two, I liked the blackberry better. The actual, non-Madeline-style address is 5 South Locust, Dexter, Mo.
I'm not sorry the steak house was closed. This place is a great find: good food in good quantities, served by some nice people. I sure wish they were in Cape and West Palm Beach.