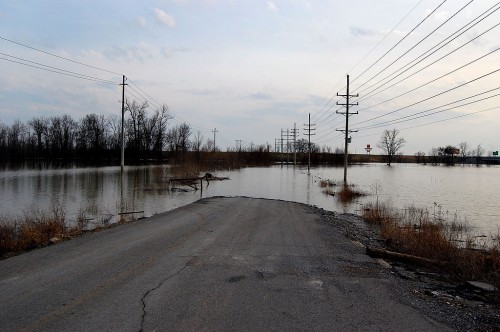 When you grow up in a Mississippi River town like Cape Girardeau, you learn to rattle off flood stages and historical floods like other kids can name cars as they drive by.
This is Old Highway 61 just south of Cape. Before Interstate 55 was built, this was the main road to Memphis and New Orleans to the south and St. Louis and Chicago to the north.
July 5, 1947, the river hit 41.88 feet, its third highest stage in history up to that point. Highway 61 and Highway 25 went under water, halting car, bus and truck traffic north and south except by taking a circuitous route.
This flooded stretch of Old Highway 61 reaches a dead end at the Diversion Channel. The waters are an inconvenience only to fishermen who would normally launch their boats at a ramp at the end of the road. The Diversion Channel is a drainage ditch that was greatly responsible for changing Swampeast Missouri into valuable farm land. When the Mississippi is high, the river backs up the channel, flooding homes and acres and acres of crops.
1947 was a piker
Time goes by so quickly. It seems like we've just had one 500-year flood when another one comes right along. These days, the 1947 flood barely beats a 2008 flood to hang on to ninth place.
Here are the top five crests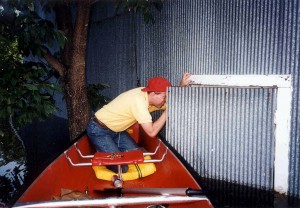 48.49 ft on 08/08/1993
47.00 ft on 05/24/1995
46.90 ft on 08/03/1993
45.70 ft on 05/18/2002
45.50 ft on 05/01/1973
Those numbers have special significance for the Steinhoff family. We have property in Dutchtown that goes under water when the Cape river gauge reads 39 feet. Want to see what 48.49 feet, give or take, looks like when you get wet at 39?
Inside the mechanic shed in 1993
Before my Dad got out of the construction business, this was a large shed used for carpentry and heavy equipment repair. We never dreamed that the water would come up so high and so fast, so we lost some shop equipment and a heavy-duty air compressor. Flooding has become so common that everything of value has been placed high enough that we hope it'll stay dry for the next 500-year flood.
My brother Mark looks a little uncomfortable because I pointed out to him that flooding brings out snakes, who are looking for higher ground. "We sure look like higher ground to me," I said.
Why are there more floods?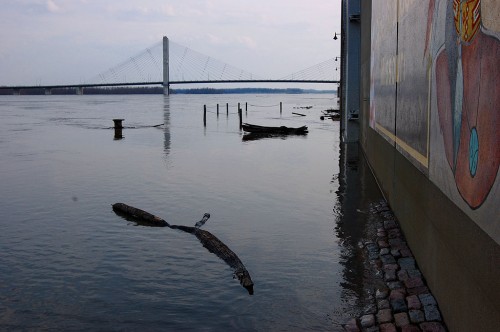 Man has tried to control the river. It's been dammed, channelized and confined to a narrower and narrower path than in the days when it could spread out over miles of flood plain. When water can't spread out, it has no choice but to go up.
Water's already lapping at the base of the floodwall at the Themis St. flood gates. When the river gets a couple feet higher, the Broadway gates will close an the city will be sealed off.
Storytelling on the riverfront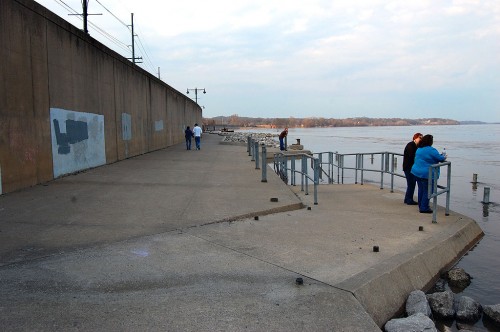 A steady stream of visitors come down to watch the muddy waters swirl by every day, but their numbers swell when the river's on the rise.
I overheard a couple of women wonder what a hole in the wharf was for. (It's a pipe that would normally have a handrail attached to it, but it had been removed, probably to keep from catching debris.)
I couldn't help but tell them "that's where you put in a quarter to keep the river flowing. It's coin operated. There are locks up the river that open up when the meter is fed. You were lucky to come along after someone else dropped a coin in the slot. It'll turn off any minute."
"Really?" one of them asked.
By the way, if that kind of fibbing appeals to you, you should show up for the Storytelling Festival April 9-11. It ain't lying if you call it storytelling. And can keep a straight face.
Map showing Old U.S. 61 & Dutchtown

View Old U.S. 61 and Dutchtown in a larger map