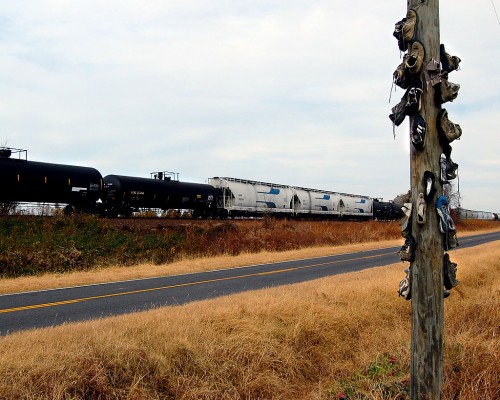 "What's that on that utility pole? It looks like someone has nailed shoes all over it."
Ernie Chiles and I were rocketing along on State Hwy P just north of Perkins after leaving the Painton Airport when something odd caught my eye.
Indeed, there WERE shoes nailed to the pole.
Shoes on fence posts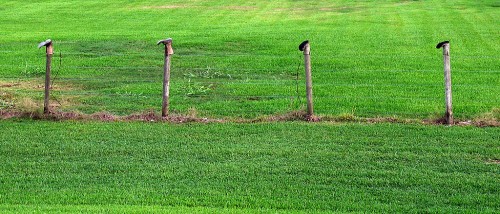 I've seen shoes on top of fence posts. These were spotted on old U.S. 27 south of Lake Okeechobee in Florida on a bike ride in 2006. Farmers have told me that covering the tops of wooden posts keeps them from rotting out.
Shoes plus nails plus pole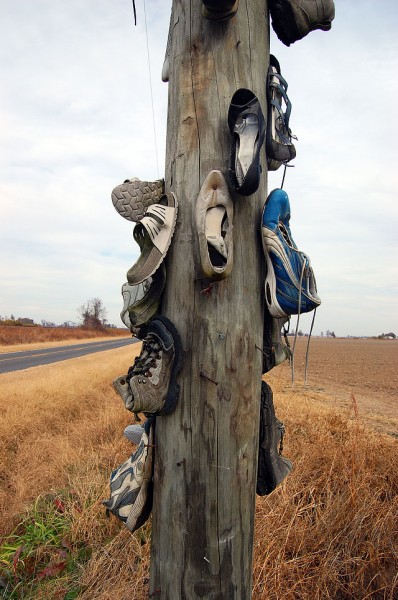 It's pretty common to see sneakers with their laces knotted together thrown over power lines. I just hadn't seen any NAILED to a utility pole before.
Wife Lila's aunt and uncle, Ray and Rose Mary Seyer, and Mother and I went on an all-day jaunt through what used to be swampland between Dutchtown and Advance. Perkins was on our way, so I told everybody to keep their eyes open for what I called The Shoe Tree (OK, it's a pole, but grant me some literary license).
Every kind of shoe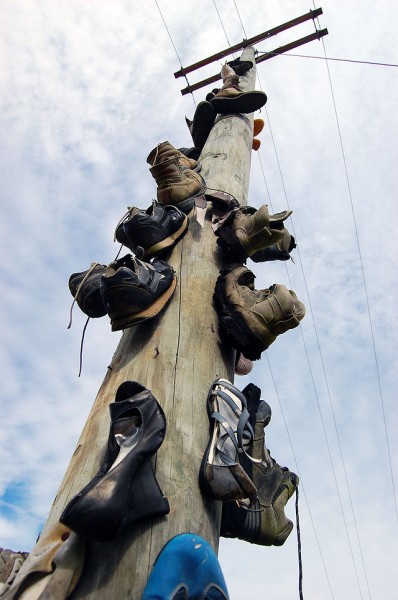 Just before Perkins, there it was. Ernie and I hadn't been hallucinating from our high-altitude flight this weekend.
We're not talking a couple of shoes, we're talking about a couple dozen shoes, plus some that had fallen off and empty nails where other shoes had been tacked up. Some of those puppies were up HIGH, too.
There were work boots, kid shoes, womens shoes, even what looked like a pair of ballet slippers.
What's the story?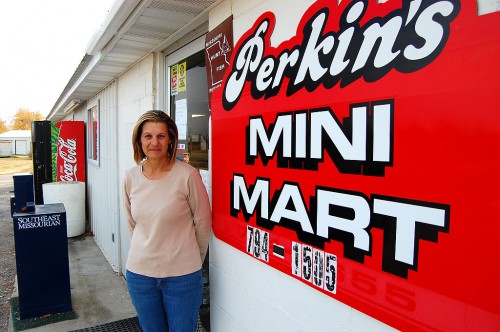 We stopped at the first sign of civilization, Perkins Mini Mart. Owner Pamela Bailey said she'd lived in the area more than 30 years and "they've been there as long as I can remember."
A customer came in who said that he didn't know why people nailed them up. "Maybe the first person did it because he wore his shoes out walking that field, who knows?"
Mother's going back
Mother said she didn't see any high-heeled shoes on the pole. "I'm coming back with a pair of my old shoes." I bet she will, too.
Shoe Tree Map
If you'd like to see The Shoe Tree, it's on this Google Map. The circled question mark marks the spot. If you see a pair of high-heeled shoes, Mother has been there before you.

View Perkins' Shoe Tree in a larger map
To get there from Cape, go 74 to Dutchtown, then turn south onto 25. Take it until you come to the first road past Delta. Turn left on Mo Hwy P. The pole will be on your left just before you get to Perkins. (Hint, don't mistake Randles for Perkins. Perkins comes after Randles.)