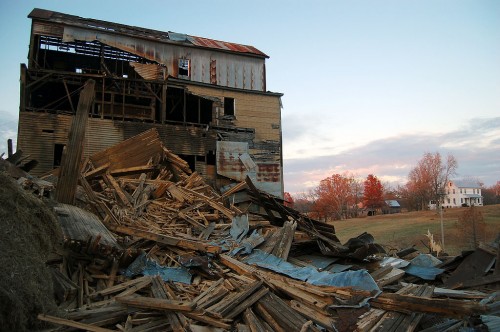 While updating some stories about the German settlements in Perry County, north of Cape Girardeau, I passed an old mill being torn down.
I apologize for not having more information, but I thought I'd put the pictures up in case anyone wanted to drive up to Frohna to see the structure before it was flattened. There's a chance demolition may be delayed, but I think it's postponing the inevitable.
Mill built in 1863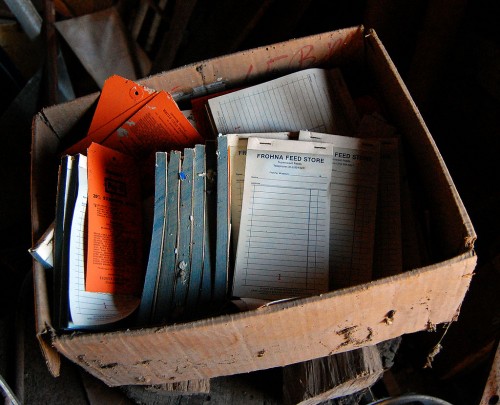 I found a paragraph in George G. Thurm's A Pictorial Tour of Historic East Perry County Missouri that said the mill was built in 1863 by Johann Heinrich Weinhold. "The company went bankrupt in the 1920s, when creditors could not pay their bills. The property was sold and converted into a feed store. This operation ceased in 1985."
Feed sacks for sewing
Over the years, it became an unwritten rule that no women were allowed in the mill. It was the exclusive domain and gathering place for the men in the area.
On the other hand, a local woman told me the men were sent to the feed store with samples of feed sacks so they could match the patterns on sacks the women were using for sewing projects. The sacks in this photo are made of paper.
Close to Saxon Lutheran Memorial
If you want to go to the mill, it's within a mile of the Saxon Lutheran Memorial in Frohna, and along the way. The memorial's outdoor history museum with log cabins from around the area is well worth a drive. I'll be running photos I shot of some of the original buildings in the 60s before long.
Gallery of photos of flour mill and feed store
Click on any image to make it larger, then click on the left or right side of the photo to move through the gallery.