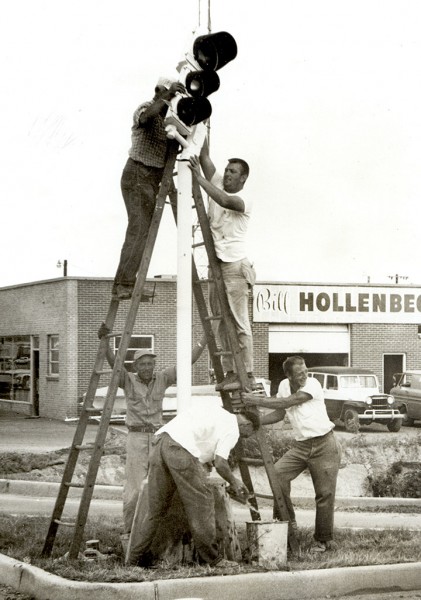 I'm always amazed at how difficult it it to go directly from Point A to Point B without side trips to Point Q and Point Z. I was scanning a box of random prints when I found this yellowing picture of workers putting up a traffic signal.
The building looked sort of familiar, and the creek and turn lanes made me think it might be the intersection of William and Kingshighway. I did a quick check for Bill Hollenbeck in the 1968 and 1979 Cape Girardeau City Directories didn't find a listing. I set the print aside for future research.
Couple dies in plane crash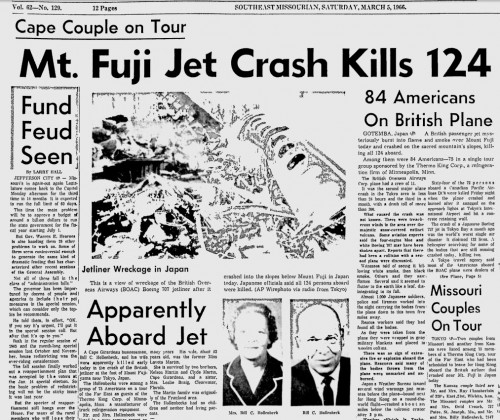 I found a print of another subject that had a date on the back, and turned to Google News Archives to see if the picture had run in The Missourian on or around the date. There were some holes in the database, so I expanded my scrolling until this headline jumped out.
The March 5, 1966, story said "A Cape Girardeau businessman, Bill C. Hollenbeck and his wife were apparently killed early today in the crash of the British jetliner at the foot of Mount Fujiyama near Tokyo, Japan.
The Hollenbecks were among a group of 75 Americans on a tour of the Far East as guests of the Thermo King Corp. of Minneapolis, Minn., a manufacturer of truck refrigeration equipment. Mr. Hollenbeck headed the Bill Hollenbeck Co., 2147 William, a vending machine company. He also was in the heating and air conditioning business.
Charlie Harris escaped death
Another Cape Girardeau businessman, Charles N. Harris, actually was awarded the trip as the result of a sales promotion put on by the Thermo King Concern, however it was not convenient for Mr. and Mrs. Harris to be away at the time, so they passed on the opportunity for the tour to Mr. Hollenbeck, a close friend, and his wife. Mr. and Mrs. Harris were at a convention in Biloxi, Miss., when notified of the apparent death of his friends.
Hollenbeck family history
The story said that Mr. Hollenbeck, about 50 years old, had been in business here for many years. [The squishy information with words like "about" and "many" indicates that Judy Crow must not have found any hard information on Hollenbeck in the files.]
His wife, about 52 years old, was the former Miss Laveta Martin. She is survived by two brothers, Nelson Martin and Clyde Martin, Cape Girardeau, and a sister, Mrs. Leslie Braig, Clearwater, Fla. The Martin family was originally of the Fruitland area. The Hollenbecks had no children and neither had living parents.
Since the crash was in 1966, that would explain why I couldn't find a Hollenbeck listing in the later city directories.