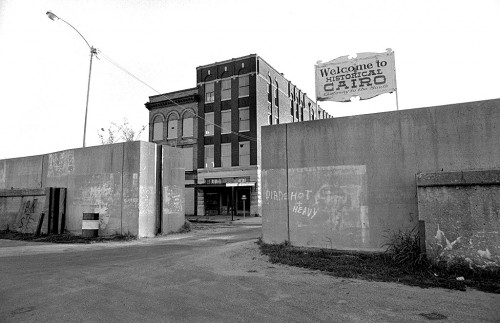 Cairo is a town of subtraction. I still take visitors there, but there is less and less to show them. It's gotten so I hardly pull the camera out because there's nothing but open ground where a vibrant downtown once flourished.
Here's a view through a floodgate opening at 8th Street in some time around 1967. You can click on the photos to make them larger.
Looks pretty much the same in 2010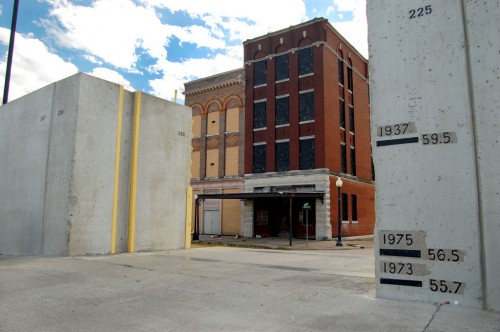 Except for being in color, the two photos are pretty much the same. This one was taken October 26, 2010.
2012 fire erases old buildings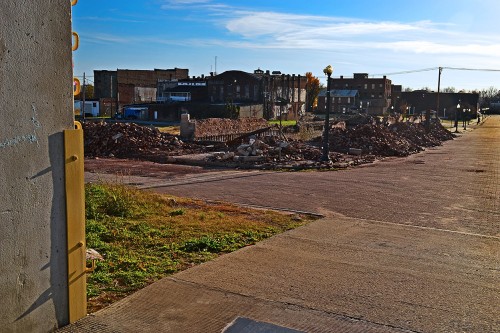 A fire started in an adjacent building and quickly spread to these two old warehouse buildings. This was taken November 13, 2012.
Nothing left but pile of bricks
When the fire was over, nothing much was left except a pile of bricks and some columns.
Not even the bricks remain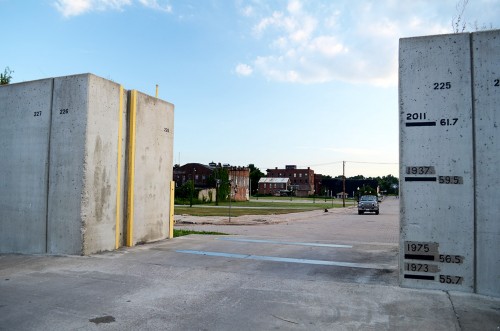 By July 10, 2013, you would never know the buildings existed.
A line has been added to show the 2011 record 61.7-foot highwater mark on the floodwall. There is a common misconception that the Bird's Point Levee was blown just to save Cairo. In fact, it reduced pressure on the levees and floodwalls in Brookport, IL, Paducah, KY, Cairo, IL, Hickman KY and Tiptonville, TN. Some have speculated that Olive Branch might not have flooded if the levee had been breached earlier.
The reason Cairo got so much attention was that the Cairo river gauge was the one used to judge when it was time to activate the floodway that had been in place since 1937.
Older Cairo stories
I've photographed Cairo since the 1960s. Here are some older stories and photos.