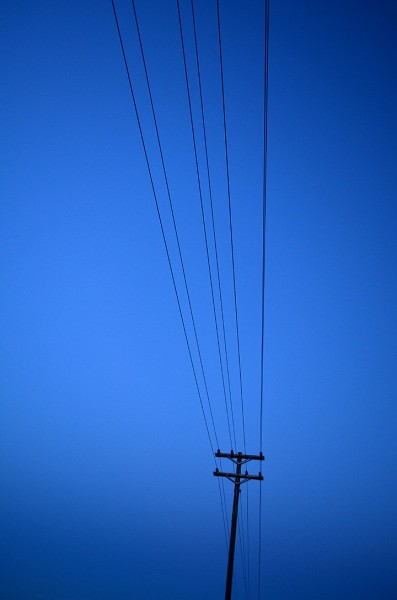 You couldn't beat Saturday's March weather: winds were calm, skies were blue, temps were in the mid-60s. I decided to take advantage of it. I spent some time at Salem Cemetery, then made a quick pass through Dutchtown, and updated my old pictures of the Allenville railroad bridge. You'll see those later.
By the time I got through with the bridge, the sun was about to dip below the horizon and the temps were dipping just about as fast. I stuck my camera in the car and was just getting in when I looked up, probably to keep from bumping my folically-challenged head on the doorframe.
These utility lines caught my eye. I was going to keep getting into the car, then my old rule kicked in: shoot it when you see it.
A view down Hwy N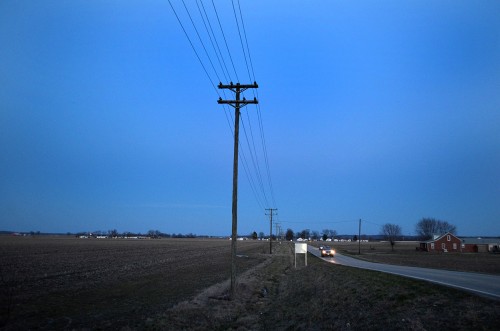 This is what you saw if you looked down Hwy N instead of up in the air. Around that curve, headed to Delta, is where one of Southeast Missouri's unsolved murders occurred.
On July 3, 1954, Bonnie Huffman's 1938 Ford was found parked in the middle of this road. Sixty hours later, the body of the pretty, young schoolteacher was found in a ditch nearby. Her neck was broken, and the 100-plus-degree summer temperatures had caused advanced decomposition.
Over the years, countless theories have been advanced, leads followed and suspects interviewed, all to no avail. John Blue, a reporter at the time, covered the story from the start and became obsessed with the case. When he was editor of The Missourian, he kept the story alive.
Missourian front page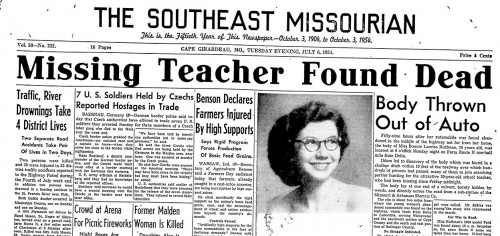 This is the original story on the July 6, 1954, front page. The timing of the story was unfortunate for the paper: July 4 was a Sunday, when the paper didn't publish, and Monday was a holiday. That meant the story didn't break until Tuesday.