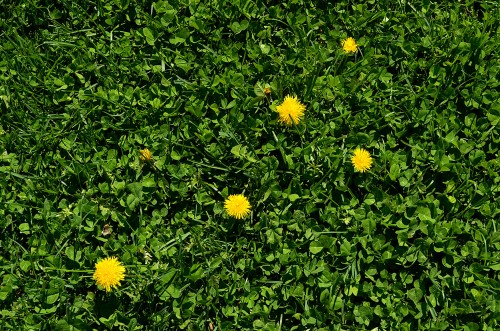 Everybody talks about the pretty fall colors, but I like coming back to the Midwest to see things returning to life in the spring. Nothing says spring like bright green clover and balls of yellow dandelions.
These dandelions on the Jackson Courthouse lawn were flashing yellow caution lights warning us not to get too comfortable even though the mercury was creeping into the upper 70s. Winter, apparently wasn't done with us yet, because those warm temps were replaced by freeze warnings.
Near Pleasant Hill Presbyterian Church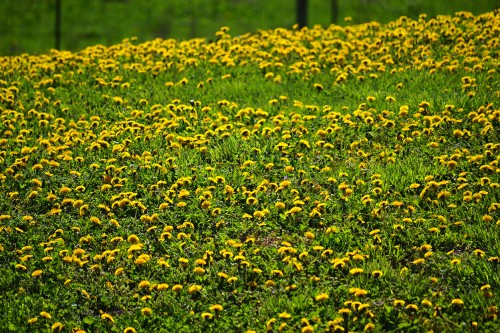 Reader and railroad buff Keith Robinson tipped me off that one of Louis Houck's railroad depots was still standing in Fruitland, so Mother and I headed up there to check it out. You'll get to see it after I've done a bit more research.
Knowing Mother's desire to find a road she's never been on before, I turned onto 541 off of Hwy 61. Before long, we were at a well-preserved Pleasant Hill Presbyterian Church and cemetery. That, too, will be a future post.
Beyond it, we passed a whole field of dandelions flashing caution signs at us. I know some folks call them weeds, but I think they're pretty.
Dad would be 97 today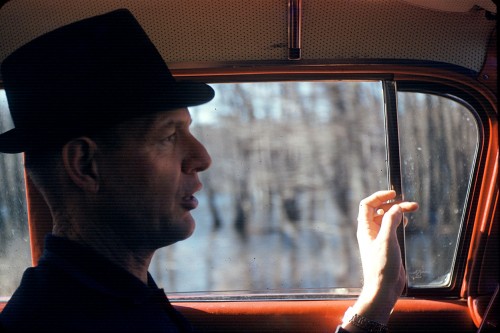 L.V. Steinhoff was born April 17, 1917. He would be 97 today had he not died in 1977. This picture of Dad behind the wheel of our 1959 Buick LaSabre station wagon, ever-present cigarette in hand, had to have been taken about 1961, because he gave up smoking about two years later. I spent many a mile looking at this profile and I'd love to see it again. This post will tell you a little about who he was.
Because he and his two brothers were dead by 60, I never thought I'd make it past that birthday.
I guess it's a healthy sign that I just mentioned two future stories. When I was 59, I was much more cautious about making plans for tomorrows. I told Curator Jessica on one of our road trips last year that I was taking out five-year options now. When I hit 67, I figured I'd make it to 72; when I get there, I'll see if I can renew the lease.