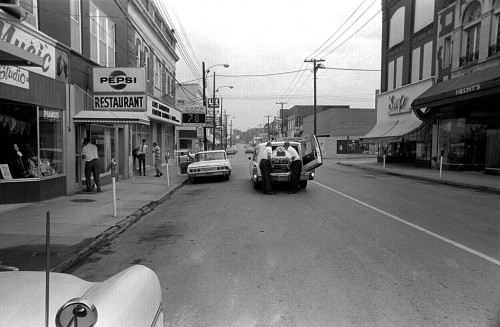 This single frame was on a roll with the flood photos I ran the other day. I didn't see anything in the paper, so it must have been a routine medical call that didn't warrant additional photos. News photographers always shoot first and ask questions later. I used to tell reporters that my machine didn't come with a backspace or an eraser. If I didn't capture it right then, it wasn't possible to redo it or get it over the phone. (Click on any photo to make it larger.)
There are some interesting things visible in the photo. The tall, skinny guy on the left under the restaurant sign might be my old debate partner, Pat Sommers. Looks like the person is wearing shades like Pat was prone to do (even in a movie theater). The temperature was a warm 78 degrees. The St. Charles Hotel has been torn down recently enough that Tom Sawyer's Fence still hides the Sterling store construction.
There is no Downtown Clock in the middle of the Themis – Main Street intersection.
Zickfield's door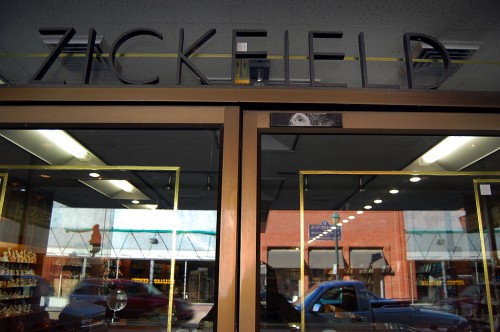 When I was looking for photos that might show the street in modern times, I scrolled through some pictures of Zickfield's Jewelers, one of only about two businesses left on Main Street from this era. The door caught my eye. Not the door so much, as the lock on the top of the right-hand door. How many thousands of times has a key been turned in that lock to wear away the finish that much?
Unnerstall's door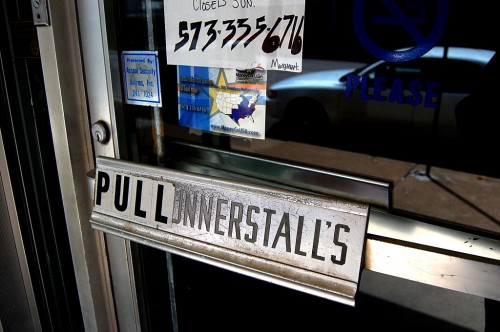 That door triggered the memory of another door I had photographed in April of this year – Unnerstall's Drug Store on Good Hope. I'm sure that the people who PULL on this door today don't have any idea who or what an Unnerstall was.