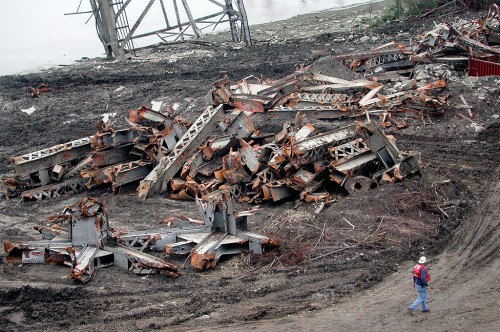 The old Cape Mississippi River Traffic Bridge was an adolescent adrenaline rush, a white-knuckled journey of fear and angst; it was an inconvenience, it was the site of personal and family tragedy. It also opened up Cape Girardeau to Illinois and points east when it became the first bridge across the Mississippi River between St. Louis and Memphis.
It was a part of our lives, indicated by the number and variety of the comments left on yesterday's post about a crash on the bridge.  The span, which was 4,744 feet, 4 inches long, opened to traffic August 22, 1928. A contractor used explosives to drop the bridge into the Mississippi August 3, 2004.
The approach to nowhere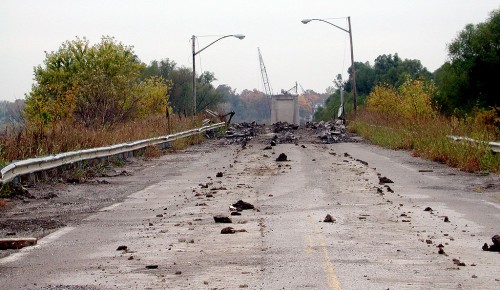 The steelwork has all been removed, but they were still working on removing the bridge piers when I shot this photo from the Illinois side of the river in October of 2004.
Piers the last to go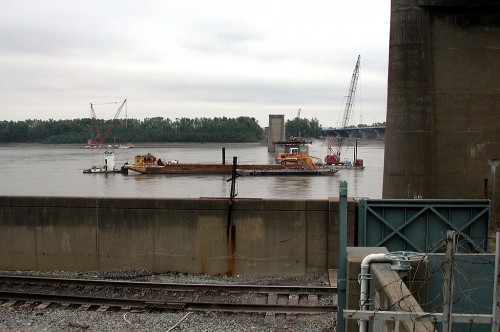 The massive piers that held the bridge up were the last parts to be demolished. This photo shows the flood gates that are closed, blocking north and south rail traffic when the river gets high. I prowled around under the bridge here and picked up a few souvenir pieces of steel. The Missourian said 160,000 rivets were used in building the bridge.
Missouri approach turned into scenic viewing area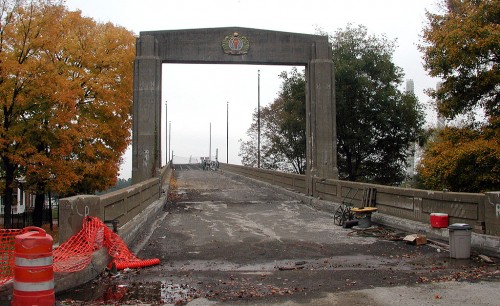 The decorative archway over the Cape approach to the bridge has been preserved and a portion of the span has been turned into an attractive viewing area. I wish that the whole bridge could have been preserved for bicycles and pedestrians like the Chain of Rocks Bridge north of St. Louis, but the Coast Guard considered having two bridges that close together to be a navigation hazard.
Mississippi River Traffic Bridge Photo Gallery
Here is a collection of photos taken of the bridge's last days in the fall of 2004. Click on any photo to make it larger, then click on the left or right side of the image to move through the gallery.