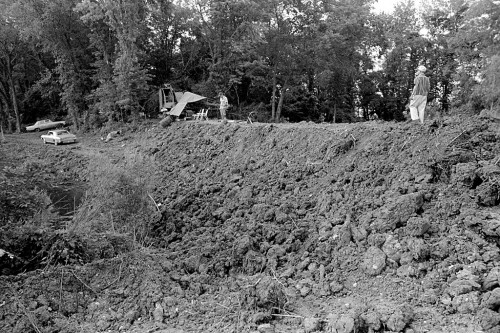 The controversy over breaching the Bird's Point levee that's putting Missourians against Illinoisans isn't anything new.
A dam erected by farmers in 1967 pitted neighbor against neighbor.
My film envelopes were slugged "Dutchtown Dam 6/22/67," and I thought the photos were taken south of Hwy 74 between Cape and Dutchtown. The newspaper story, however, describes it as "south of Cape Girardeau and east of old Highway 61 between that highway and the Mississippi River."
Bits and pieces of the story ran for days. You can read the one that ran with my photo in the June 23, 1967, Missourian.
Farmers on the "wet" side of the dam contended that the structure would cause water from the Diversion channel to back up on their land earlier than it would have normally.
Threats to blow up the dam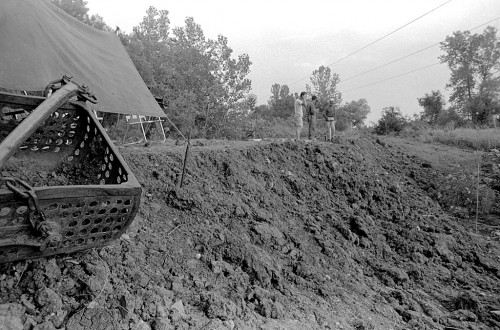 The Cape County Sheriff's office received at least two threats to blow up the dam. Some of the farmers stood guard over the earthen structure at night. At least one of the men in this photo had a rifle or shotgun. I'm going to surmise that it was probably more for snakes than potential bombthrowers.
A story on June 26, said the Little River Drainage District had ordered the dam removed. A flood story on the 27th said it was still standing. A story on June 28 said that attorney Jack O. Knehans was contemplating filing a suit seeking $50,000 to $75,000 in damages from the dam builders.
I scrolled through papers for the next few days and never did find how the issue was resolved.