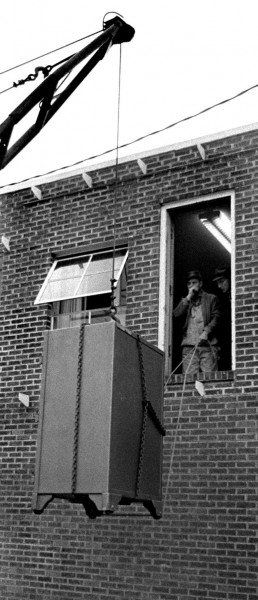 Virtual friend and photo colleague Fred Lynch ran a Frony picture of the Erlbacher building at 1105 Broadway in his Missourian blog this morning. I encourage you to follow the link to f/8 and Be There. It'll save me a bunch of typing.
I never knew the uniquely-shaped bookend buildings had a name, nor did I know the fascinating history of them until reading his piece.
You can read more about the buildings by downloading the National Register listing. It's a huge file, so the best thing is to right-click on the link and chose Save Link As, then open it in Adobe Acrobat.
Cape School Board
What I DID recall was that I had taken a picture of a large safe being removed from the building when it ceased being used for the Cape Board of Education and Superintendent of Schools at the end of 1966.
Follow this link to see how the photo was played in The Missourian Dec. 13, 1966. The photo was used to illustrate a story about "Hopes for Early Bid on $775,000 School Bonds."
One of the ironies was that some of the bond money was going to be used to renovate May Greene and Washington Schools, both of which have been abandoned by the system. Washington School was recently torn down.
Gallery of photos
Here's a gallery of photos of the safe move on Dec. 12, 1966, plus some photos taken Oct. 28, 2009. The buildings look remarkably the same. I'm pretty sure the window treatments haven't been changed in all those years.
Click on a picture to make it larger, then click on the left or right side of the image to move through the gallery.