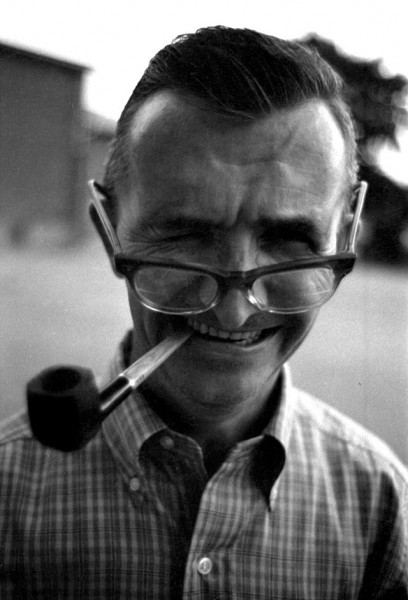 The first email I opened this morning was from classmate Joe Snell with bad news: his dad, Stan Snell, had died last night.
I immediately thought of the gentle, genial man that my buddies and I thought looked like Popeye the Sailor Man. He almost always had a pipe clinched between his teeth, a crinkly little grin and perpetually squinted eyes with laugh lines around them.
Active in Boy Scouts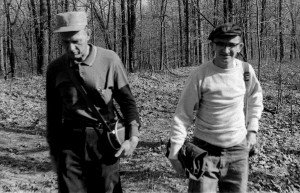 I didn't know Stan as well as my brothers, who were younger. By the time they got into Trinity Lutheran School's Troop 8, my Dad was winding down his business and had more time to spend with them. Dad and Stan got to be good friends planning Scout activities and going on camping and hiking trips.
I didn't know until I did some research that Stan had been Scoutmaster of Washington School's Troop 15 in the late 50s. There was a story in The Missourian on Nov. 13, 1959, about him leading the troop on a foxhunt. (Animal lovers, don't get upset. We're not talking about REAL foxes.)
Served in World War II
There was a long piece in The Missourian Oct. 31, 1945, listing all the men being discharged from the military. I recognized a lot of the names as men I knew who never mentioned their service in the war.
Down toward the middle of the story was a single paragraph: Stanley Lee Snell, motor machinist's mate, 519 North Main St., Cape Girardeau – Entered service, July 1, 1942; discharged Oct. 3, 1945, at Coast Guard Center at San Francisco, CA, served aboard The Sequoia.
Married Miss Norma Mueller in 1946
The Missourian had a story about his wedding in the paper May 27, 1946. (The bride wore a brown, street-length dress with blue trimmings; she also wore a string of pearls given to her by the bridegroom.)
I'll never forget his pipe and his grin
Most adults are sort of a blur to kids, but Stan Snell is a man I'll never forget. He was a genuinely nice guy. There's not enough of those around these days.
Here's his official obituary
From the funeral home web site:
Stanley Lee Snell, 88, of Cape Girardeau passed away Thursday, April 15, 2010 at Southeast Missouri Hospital in Cape Girardeau.
He was born December 19, 1921, in McClure, Illinois, son of Lee J. and Dora Moore Snell. He and Norma Ruth Mueller were married May 18, 1946 in Cape Girardeau. Snell was a veteran of WWII, serving in the United States Coast Guard from May 3, 1943 to October 3, 1945.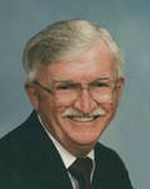 He worked 30 years as office manager for Wiethop Truck Sales, retiring in 1987. He was a member of Trinity Lutheran Church in Cape Girardeau since 1946, and was a former treasurer of the Men's Club. His civic affiliations included membership in American Legion Post 63 and the Disabled American Veterans, both in Cape Girardeau. He volunteered many years with the Boy Scouts, serving as Scout Master for Troops 8 and 15 in Cape Girardeau, and in 1962 he became a Vigil Honor Member of the Order of the Arrow.
Loving survivors include his wife of 63 years, Norma of Cape Girardeau; a son, Joseph L. (Marguerite) of Lake St. Louis , Mo. ; a daughter-in-law, Sharon Snell of Cape Girardeau ; four grandchildren; and five great-grandchildren.
He was preceded in death by a son, the Rev. Jerry L. Snell (5-16-1996); two brothers; and one sister.
Friends may call Sat., Apr. 17, from 10AM until time of service, at Trinity Lutheran Church in Cape Girardeau.
Funeral service will be Saturday, at 11:00 AM with the Rev. Douglas Breite officiating. Interment will follow in Memorial Park Cemetery in Cape Girardeau. Memorials may take the form of contributions to Living Hope, c/o Trinity Lutheran Church.
McCombs Funeral Home in Cape Girardeau is in charge of arrangements.