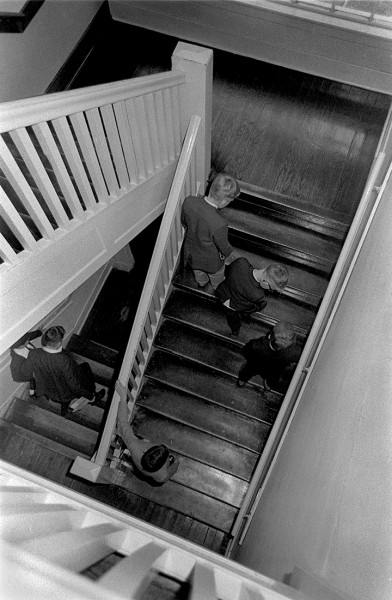 The wooden treads on these steps at Trinity Lutheran School had been hollowed out by generations of children, me included, going and down them. There was something special about those old dark steps, kept shiny by diligent janitors.
In case you were wondering, no, we didn't have a super-strict dress code. These kids were probably on their way to or from Sunday School.
Wood replaced by steel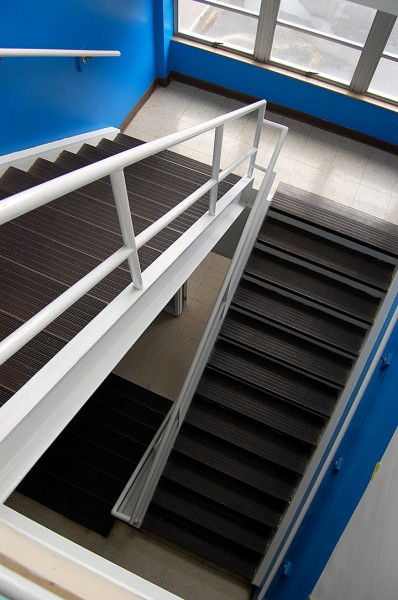 I'm glad to see the building is still there, but the wooden stairwells have been replaced by modern construction materials. I suppose they are easier to maintain and are a lot safer in case of a fire, but I bet they don't have those creaks and squeaks I remember.
Playground was gravel
When I was in the lower grades, this playground was gravel. In fact, when I was in the lower grades, I don't think the the two-story classroom building on the left had been built yet.
The tall building in the middle housed classrooms and administrative offices. The reddish brick building to the right was the gym / auditorium, with the cafeteria in the basement.
George Alt House being wrecked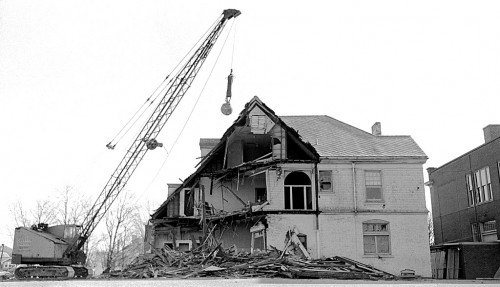 I wrote about the history of the George Alt House, also known as Trinity Hall, last year. I could understand tearing the building down because of maintenance issues and a need for more space, but I was disappointed that the fine woodwork and windows weren't salvaged.
Here are photos of the wrecking ball at work.