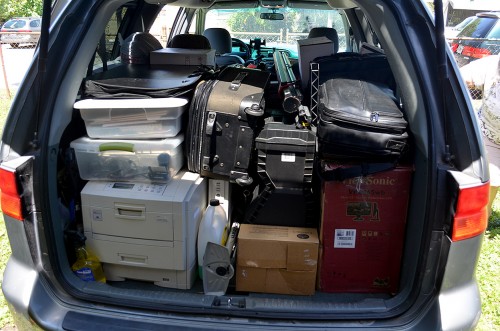 I forgot I had taken this shot of my loaded van just before I pulled out of the driveway. Not everything in there is mine: two-thirds of it is taken up with some old computer equipment I'm donating to the museums in Altenburg and Athens.
Morning started off great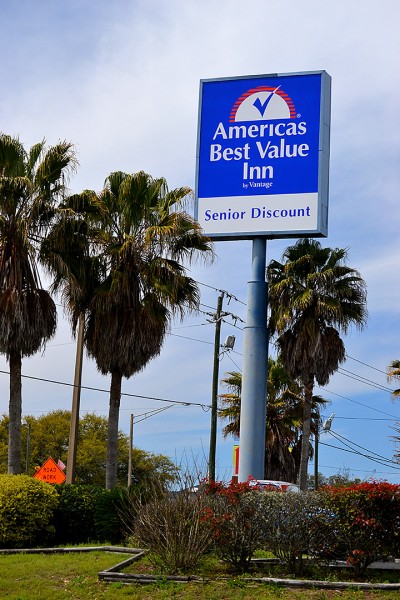 I mentioned how I had gotten a good rate on a small, but clean room in Lake City. When I checked out, I had a nice chat with the desk clerk. I asked if he knew of anyplace close where they could replace a nosepiece on my eyeglasses. He suggested Eyeglass Express, just up the road.
Kristina ("With a 'K'") McFarland replaced both nosepieces at no charge. They even grind their own lenses there. I'm tempted to get my next set of glasses in Lake City just so I can watch them being made.
Even cheaper rooms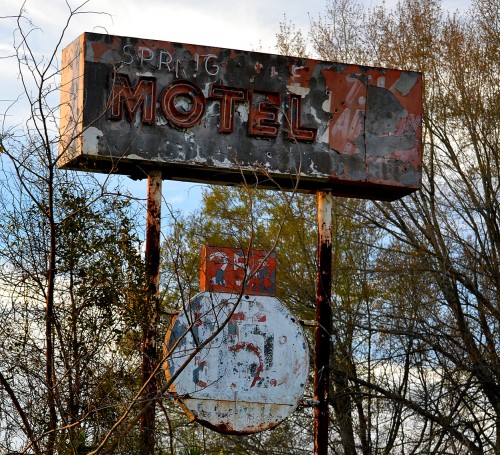 I might have been able to get even cheaper rooms here on 231 outside Troy, Alabama, but I think the sign may have been all that was left.
It reminds me of the place Friend Shari and I ran across last year.
A squirrely encounter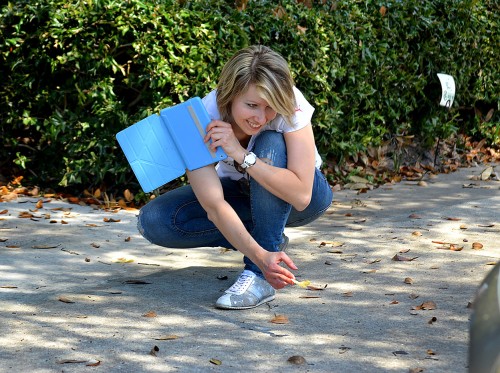 Yesterday's rest stop photo involved horsin' around. Today's photo was a little squirrely. I couldn't figure out what a young couple was doing. They were running around trying to take low-angle photos with their cell phones and tablets.
Finally, I saw what intrigued them: there was a squirrel running around on the sidewalk. The woman got some potato chips out of her car and tried to entice the little rodent into eating from her hand, but it wasn't biting, so to speak.
I should have checked out their car tag to see where they had come from that didn't have squirrels. (Like yesterday, I didn't even have to get out of the car to shoot the rest stop photo.
Where's my peanut brittle?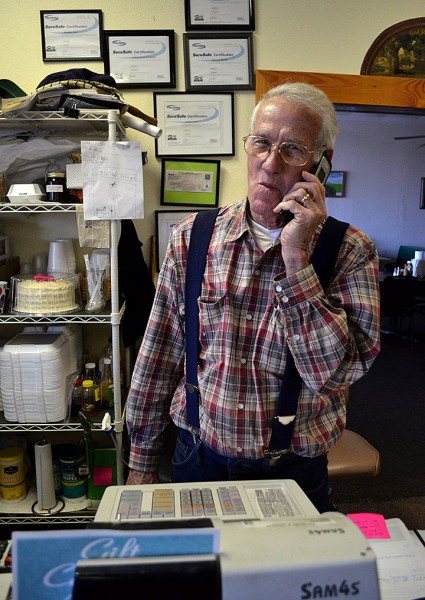 The Oaks Restaurant in Marianna, Florida, has the best peanut brittle I've ever eaten. I picked my route specifically so I could snag some for family and friends who also love it. I even called ahead of Friday to have them set aside seven slabs of it for pickup on Monday or Tuesday.
When I got to the place, I was sure glad I had called ahead because the basket where the crunchy nectar lives was empty. The cashier called the owner – Eddie, I think his name was.
Eddie said, "I thought you were coming Tuesday."
"I said Monday or Tuesday. I'm usually late, but I'm actually either on time or early, depending on how you look at it."
Eddie broke the news to me: he hadn't been able to get the word to the woman who makes the brittle. He's leaving her a voicemail message in the photo. "Could you not smile so much?" I asked him. "I need a sad photo to show all the people I'm going to disappoint."
No tailgating this guy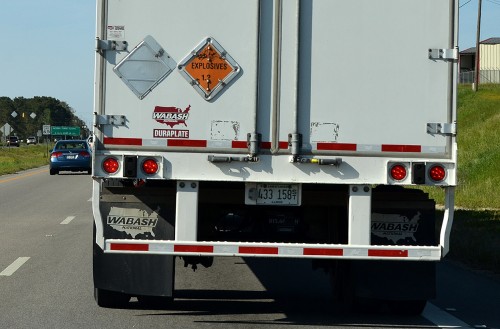 As soon as I saw the "Explosives" placard on the back of this 18-wheeler, I decided to pass him and put some distance between us. Maybe I should stop at a truck stop to buy one of those signs to put on the back of my bike.
I should roll into Cape late Tuesday afternoon.