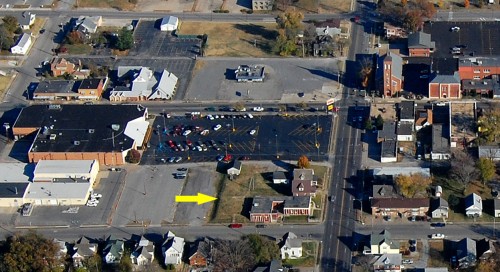 When I was up in the steeple of St. Mary's Cathedral the other day, I noticed land being cleared on William west of Sprigg. It's one of those things where you say, "Something's different, but I don't know what."
Here's an aerial taken November 6, 2010, showing the area. The yellow arrow marks the spot. William Street runs from the bottom of the frame to the top of it, and we're looking east toward St. Mary's. The building to the left of the big black parking lot houses Fred's Super Dollar Store and the Save-A-Lot food store.
Click on the photos to make them larger.
Site will be a Family Dollar Store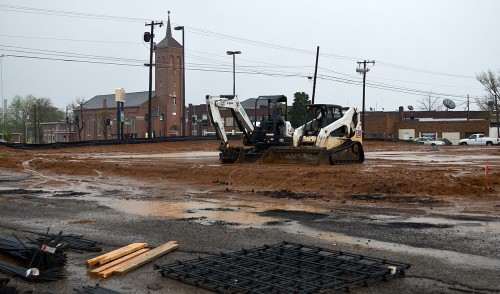 A November 25, 2013, Missourian business column reported that "an acre of land that includes four properties on William Street between Sprigg and Ellis streets has been sold to Family Dollar store and the deal is closed, according to Thomas M. Meyer of Exit Realty. All the properties now are commercially zoned and will be demolished to street level for the building of Family Dollar."
It'll be interesting to see if the project continues in light of news stories that "Family Dollar closing 370 stores and lowering prices after revenue falls 6%."
Should have shot in when weather was good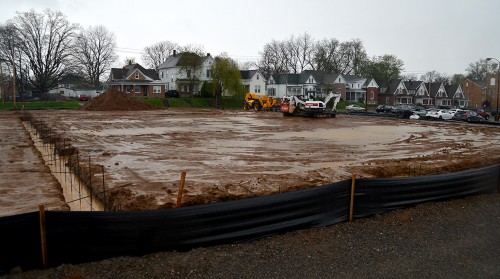 I should have gone from St. Mary's to the vacant lot on a day with the temps were in the high 70s and the sky blue.
I procrastinated, though, and shot these when the wind was gusting, the thermometer was heading south into the low 40s and my bald head was being pelted by rain trying to get up enough gumption to turn to sleet.
This photo was taken from an alley on the east side of the property looking west toward the houses on Ellis.