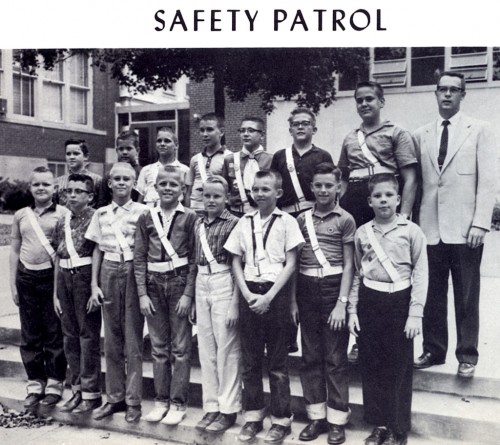 I was elected / selected / appointed Captain of the Trinity Lutheran School School Safety Patrol in the 8th Grade in 1961. Got to wear a special blue-trimmed badge. For some reason or another, I think I might have had one or more lieutenants who had red-trimmed badges to differentiate us from the peons with plain silver badges.
I'm fifth from the left in the back row. Kent Verhines is to my left and David Hahs and John Hilpert are to my right in this 1961 school yearbook photo. Ronald Dost is on the right in the front row. I think everyone else was in lower classes and beneath the notice of us upper classmen.
We learned how to fold and roll up our Sam Browne belts so you could hook them on your belt with the badge still attached. My Captain status gave me the ability to slip out of class to inspect my troops and issue demerits if I caught them slacking off. I was a little disappointed that I never caught anyone sleeping on duty. The troops were allowed to think I was authorized to use my Tuf-Nut knife to conduct a summary execution if that occurred.
Homemade Safety Patrol movie

I must have gotten permission to take the family's Bell & Howell 8mm movie camera to school one day. Looking back at it, I didn't do too bad a job of shooting a variety of different angles and situations. A few closeups and some better acting would have made it better.