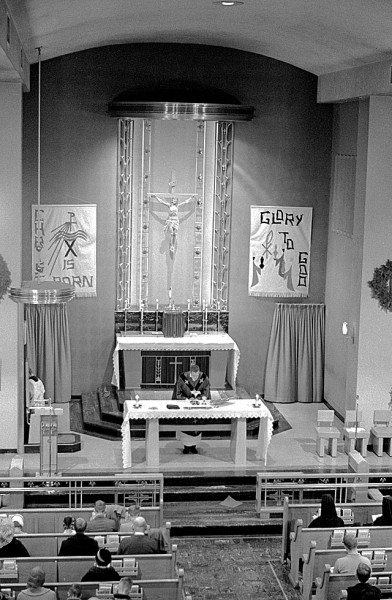 Missourian caption Dec. 24, 1967: "The Rev. Bosco Westrich of St. Mary's Cathedral presides over Friday night's observance of the Christmas Novena at the church. At the left, an altar boy departs. The Novena is a nine-part series of Christmas services which will conclude on Christmas Eve. The banners on either side of the altar were made by school children of the parish."
In honor of altar boys everywhere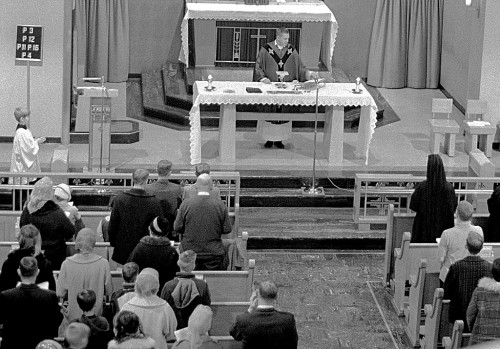 The vertical shot was the one that ran in the paper, but I thought I should run this second photo that actually shows the altar boy's face, even if it's a little fuzzy.
Speaking of fuzzy…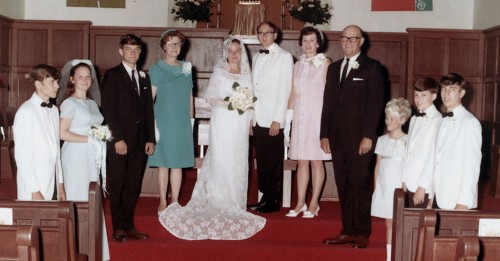 Wife Lila is back in Cape for a week, so I sent her a message, "We got married in St. Mary's, didn't we?"
I probably should have looked up the info.
Her response: "I guess 41 years have dimmed the memory. Yes."
There are some questions better left unasked.
Exterior photos of St. Mary's
I ran photos of the outside of the St. Mary's Cathedral and School back in August if you'd like to see what it looks like today. There's been quite a bit of construction at the school.