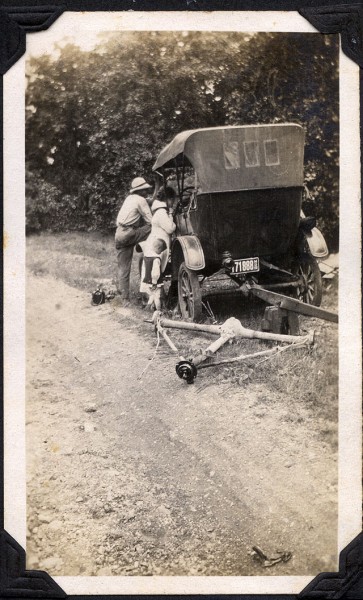 Foodie Friend Jan Norris sent me a message Tuesday morning gleaned from some list that sends her daily minor factoids to clutter her brain.
Let me clear one thing up before we get to her post: I'm missing that piece of the male gene that contains an interest in automobiles. I have buddies that can ID every car on the road, what engine it has, how many throckmartins it puts out and whether that particular model has whingdings or not.
I do well to know how many doors it has and come close to guessing the color. That's why I'm going to go out on a limb and say that these photos from Mother's scrapbook are of a Ford Model T that Jan's quote talks about. [You can click on the photos to make them larger.]
Last Model T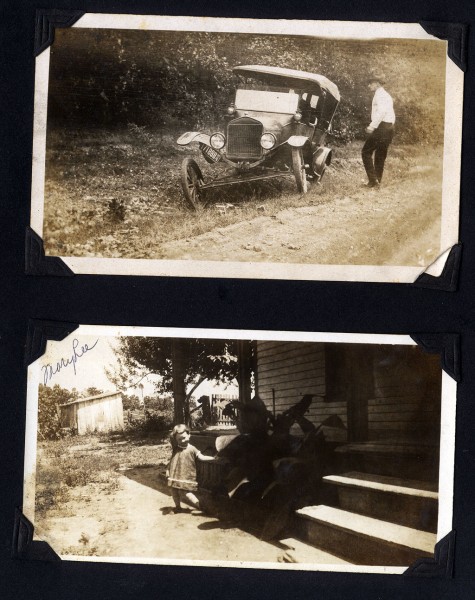 On this day in 1927, the last Ford Model T rolled off the assembly line. It was the first affordable automobile, due in part to the assembly line process developed by Henry Ford. It had a 2.9-liter, 20-horsepower engine and could travel at speeds up to 45 miles per hour. It had a 10-gallon fuel tank and could run on kerosene, petrol, or ethanol, but it couldn't drive uphill if the tank was low, because there was no fuel pump; people got around this design flaw by driving up hills in reverse. [Like on Mill Hill.]
Model T cost $290 in 1927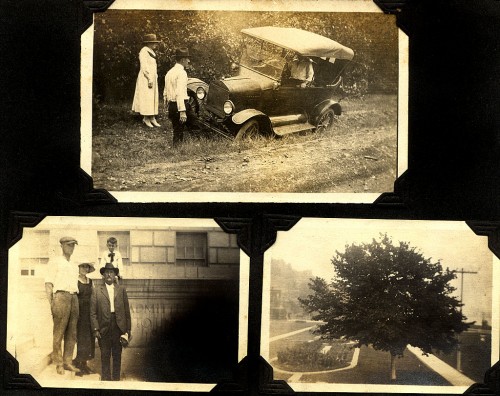 Ford believed that "the man who will use his skill and constructive imagination to see how much he can give for a dollar, instead of how little he can give for a dollar, is bound to succeed." The Model T cost $850 in 1909, and as efficiency in production increased, the price dropped. By 1927, you could get a Model T for $290….(But in 1927, with pay averaging $1000 a year, this still was likely a good chunk of change out of a salary.)
A car for the great multitude
"I will build a car for the great multitude," said Ford. "It will be large enough for the family, but small enough for the individual to run and care for. It will be constructed of the best materials, by the best men to be hired, after the simplest designs that modern engineering can devise. But it will be low in price that no man making a good salary will be unable to own one — and enjoy with his family the blessing of hours of pleasure in God's great open spaces."
Some things don't change
I don't know who the folks are in the photos (maybe Mother will chime in), but they are all looking at the broken-down car in the way we STILL look at a vehicle that won't start. The small child in the top photo has already mastered the if-I-stare-at-it-long-enough-maybe-it'll heal-itself pose.
You can see another variation of the "Oh, Bleep!" pose in this fender-bender story.