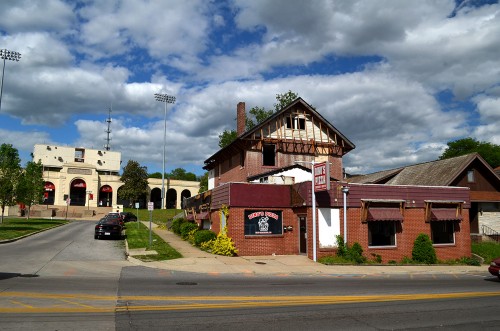 On the way down Broadway, I spotted Dino's Pizza and recalled seeing a story in The Missourian that the building had been bought by the university and was going to be torn down. The April 28, 2014, Business Notebook said asbestos abatement would begin in the next few weeks, and demolition of the building would start the week of May 19. The property will be seeded and become green space, the university told The Missourian.
Building badly damaged by fire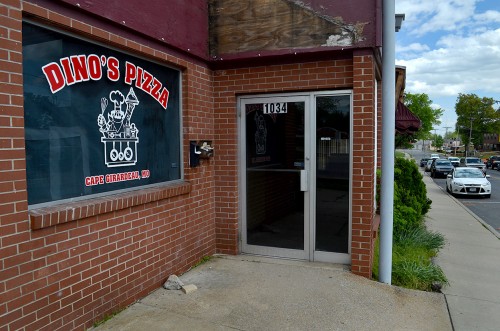 The Missourian reported on August 11, 2011, that Dino's Pizza at 1034 Broadway was heavily damaged by an early morning fire on August 10. Investigators thought it was an electrical fire. Two cats were removed from the building, but they died of smoke inhalation.
The building was condemned by the city a month after the fire. The Missourian reported that Owner Kostas "Gus" Demopoulos said the building will be demolished, but as of right now, he intends to rebuild. According to the condemnation notice, he will have 30 days after Sept. 25 to either repair or demolish building.
As you can see, the 30 days managed to drag out almost three years.
Nicholas Demopoulos died Feb. 5, 2011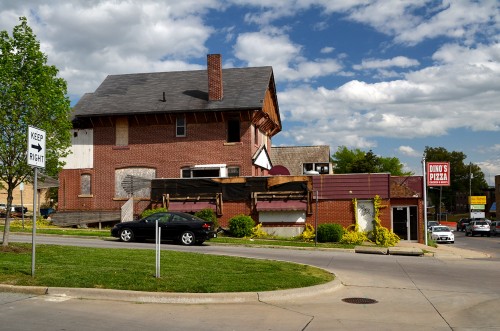 I never had a Dino's pizza so far as I know. Our family always headed to Tony's Pizza Palace across from the Rialto Theater.
What I didn't know until I read his obit was that Nicholas Demopoulos, who took over ownership of Dino's, had been a pizza cook at Tony's when he and his family came to Cape Girardeau from Greece in 1969. He had quite an interesting life.
Click on the photos to make the disappearing Cape landmark larger.