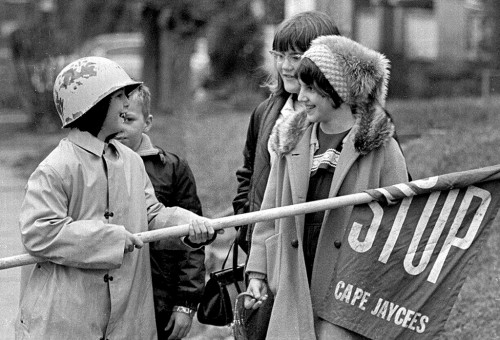 There's no doubt that young ladies were attracted to those cool uniforms we School Safety Patrol guys wore. Not only did we have bright yellow helmets, Sam Browne belts and bright raincoats, but we also had the STOP flags that could capture the cute girls until you gave them permission to proceed.
Key post at Keller and Themis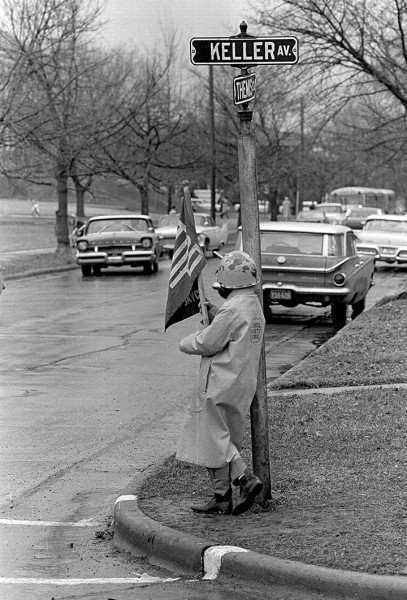 Our patrolman bundles up against the rain falling on his post at Keller and Themis. That's my 1959 Buick LaSabre station wagon at the curb (mentioned for the car collectors who specialize in it).
White boots and rolled cuffs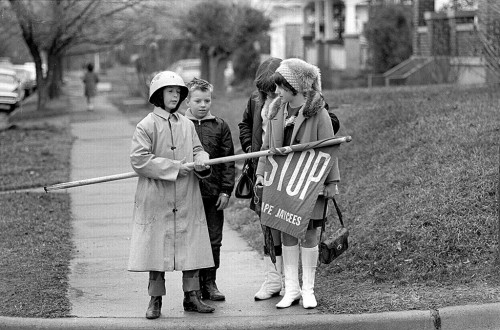 This was the era of white boots for girls and rolled-up blue jean cuffs for boys. I mean, you had to buy them long because of expected growing spurts. Just like bikes were bought big enough that you had to put wood blocks on the pedals so you could reach them until you grew into the two-wheeler.
Not allowed to stop cars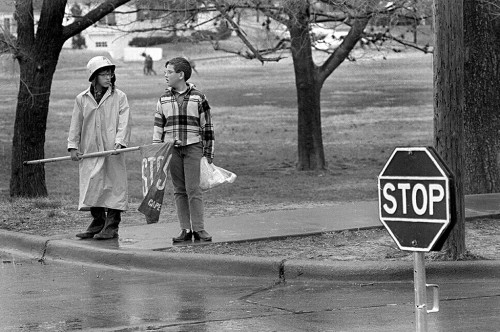 We were strictly informed that we weren't supposed to actually stop cars. Our flag was to hold back the kids until we were sure the street was safe to cross, then we would swing out flag out to reinforce to any approaching car that they were supposed to stop.
I did, in my role as Captain, turn in the tag and description of a car that failed to stop at the stop sign I had rolled out into the middle of the street. Whether he turned it into the cops or not, I never knew.
We took our jobs seriously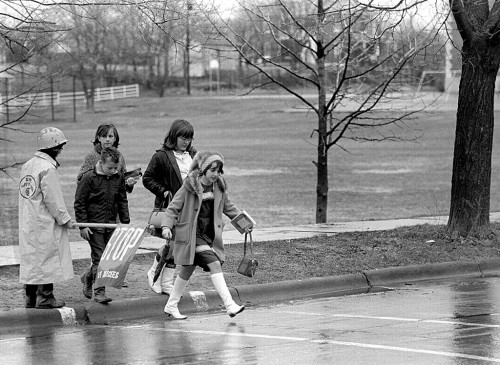 I am proud to report that all of our charges always made it across the street safely. Surprisingly enough, I don't recall any of our peers mocking us for our duty. Maybe it was because we could sneak out of class early to take our posts. We wore our rolled-up white Sam Browne belts attached to our belts when we were off-duty.
Trinity and St. Mary's Patrols