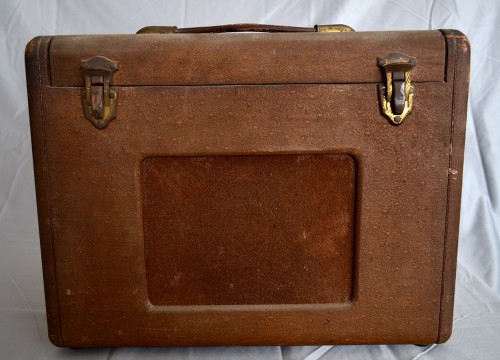 This Firestone Fire Chief 4-C-3 radio was born the same year I was – 1947 – if Google info is correct. It was the size of a small suitcase, and quite shocking in its day (more about that later).
You can click on the pictures to make them larger.
Dad and Roy Welch would take it fishing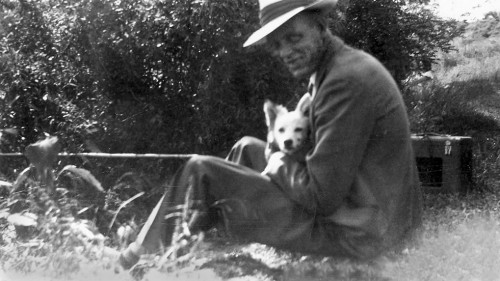 Dad worked at the Firestone store in downtown Cape for awhile, so he might have been the one who bought the radio, but I usually associated with my grandfather, Roy E. Welch. A huge 9-volt battery made it portable.
You can see it on the bank behind Dad while he's fishing.
The radio's innards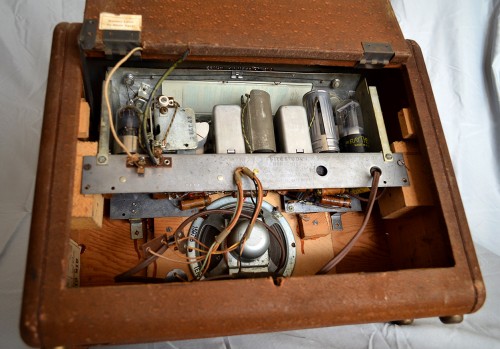 The battery is long gone. I find it interesting that the case and the side brackets are all wood.
A spec sheet on the Radiomuseum website said the "Reception principle was Superhet with RF-stage; ZF/IF 455 kHz; 2 AF stages."
Tubes, remember tubes?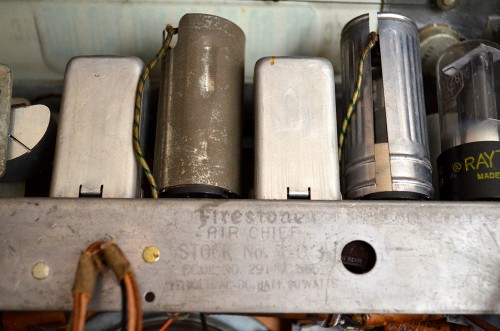 Tube testers could be found in all kinds of stores. If your radio or TV stopped working, you'd pull out all the tubes and drag them to your nearest drug, grocery or hardware store. There, you'd stick them in the tester gizmo one at a time until you found the bad one, pay a buck or so for a replacement, then go home to plug them all in again.
There was nothing that made you feel more like a scientific genius than seeing your gadget come back to life.
Radio made in Akron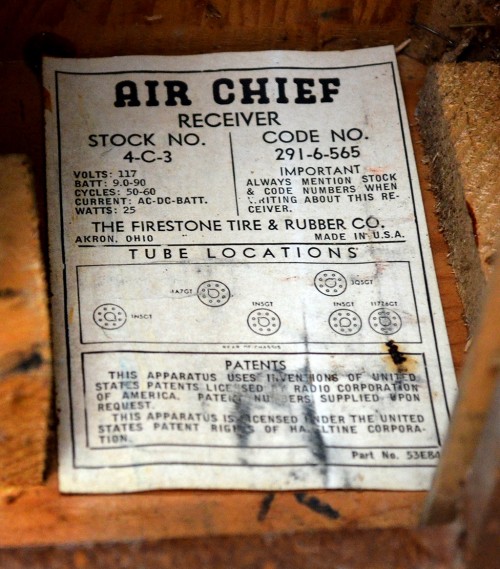 A handy-dandy sticker said the radio was made in the U.S.A, in Akron, Ohio, to be exact.
It was even nice enough to include a little schematic showing the type of tubes it used and their locations. In case you are playing along at home, here are the six tubes it took: 1N5GT, 1A7GT, 1N5GT, 1H5GT, 3Q5GT and 117Z6GT.
A couple knobs are missing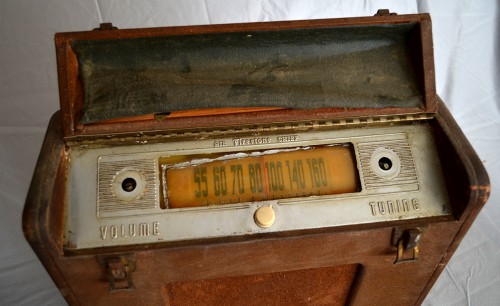 The top opened up to expose the volume and tuning controls and a tiny selector switch in the middle that determined if you were running on AC power or the battery.
The knobs are missing, which proved problematic when it was plugged into a wall outlet. The radio was poorly grounded, so as soon as you touched any metal part on it, you would find 60-cycle electrical current passing through your body, a distinctly unpleasant experience.
One learned very quickly to approximate how loud you wanted it to sound BEFORE you plugged it in, and to turn it off by pulling the plug.
Always set to 960 AM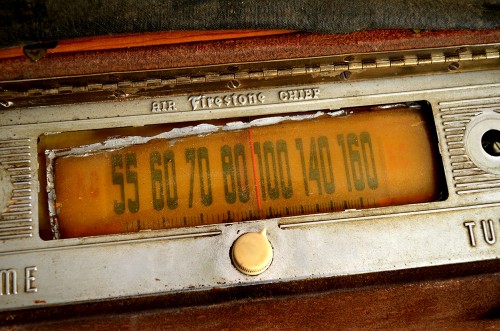 There was no need to tune the radio: it was always set to 960 AM, KFVS radio. That's where Dad would listen to Harry Caray calling the St. Louis Cardinal games, hoping to hear his signature line, "It might be … it could be … it IS! A home run! Holy cow!"
I was tempted to see if it still worked, but I think I cheated death enough when I was a kid. That device might have been hiding up in the attic for 45 years just waiting for me to plug it in, thinking, "That fool is going to give me one more crack at him."