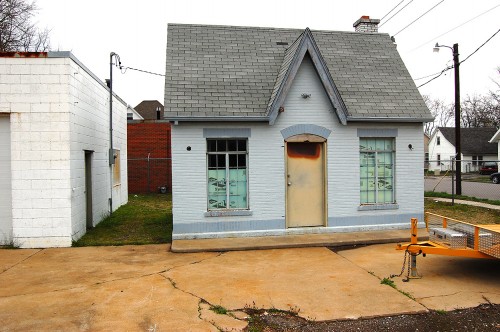 I was never in the tiny service station at 802 Good Hope, at the corner of Good Hope and Ellis, but I've always been fascinated with it because it looks almost like a model of a real building. You can click on the photo to make it larger but the building itself is still going to look miniature.
I couldn't find much about the history of the building, but here are a few news stories culled from The Missourian over the years:
Sept. 12, 1934 – Arthur Kempe, 545 S. Ellis street, has purchased from the Phillips Petroleum Co. the filling station located at 802 Good Hope street. Kempe was formerly bookkeeper for the Rudert and Sons garage. He is being assisted on Saturdays by his son, Jimmy.
 Mar. 4, 1946 – Arthur Kempe called The Missourian office to say that he saw his first swallow of the season this morning in a bird house at his service station at 802 Good Hope street.
 May 25, 1961 – Officers almost nabbed a burglar late Wednesday night but darkness enabled the thief to elude his pursuers. Police, who drove up with their headlights off, spotted a man near the station with his hands full of apparently stolen articles. The suspect ran between houses near the station and managed to escape, "his dark clothing making him almost invisible in the night." He took $3 in pennies, eight packs of cigarettes and six flashlight batteries.
Aug. 19, 1984 – The Urhahn Service Station, 802 Good Hope, has been purchased by Otto and Rebecca Goehman, who are now operating the business. They bought the facility from Harold and Dorothy Annis. The business retails gasoline and other motor car products and also does major and minor automobile work.
 May 22, 2004 – Black oramental iron stands were reported stolen from FGR Mechanical, 802 Good Hope.
Other business is the Haarig area