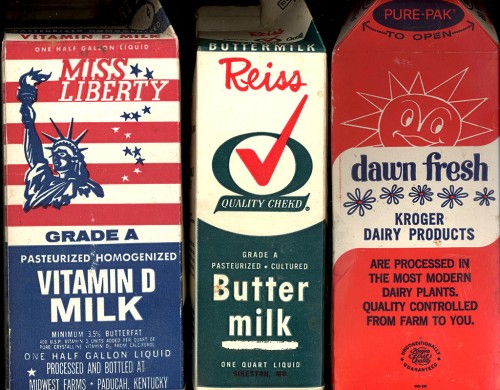 I still don't feel like talking about our plumbing project. We now have two functioning bathrooms, but the upstairs one is going to need to have new floor covering put down. We couldn't match the 57-year-old tiles we had to pull up, so we're going to punt and go with all new. I don't do paint chips, so Mother is going to have to make the decorating decision on her own. The room has gray tile with pink trim (which actually looks better than it sounds.).
But we're going to talk about something else that came up during the project. I mentioned yesterday finding an old canteen that belonged to K Robinson of Troop 8. Keith Robinson claims he loaned it to his younger brother and that was the last that was seen of it.
I know how that works. I have TWO younger brothers. Had they taken care of the mint condition comic books I left behind when I went to college, I'd be able to afford a better grade of cat food in my retirement.
The space between the floor joists and the upstairs flooring was filled with cardboard milk cartons from Sunny Hill, Reiss from Sikeston and Kroger's Dawn Fresh.
No missing children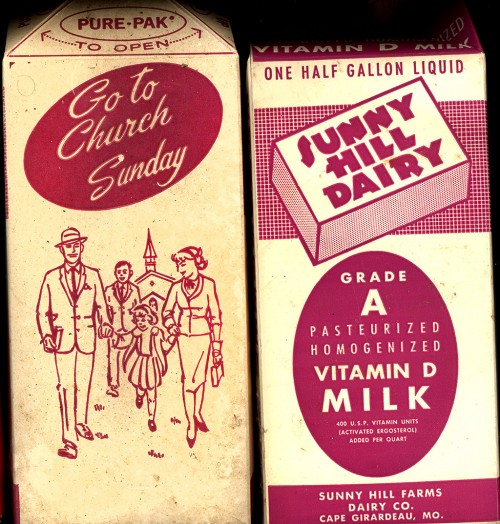 None of the cartons has photos of missing children on them. That didn't start until December 1984 after Etan Patz went missing in New York. Eventually 700 out of 1,800 dairies around the country participated in the program.
It's hard for me to pinpoint how old the cartons are. Brother Mark thought he saw something that indicated the year to be 1970 or '71, but I can't find that stamp now. One Kroger half-gallon has an imprint 7/5 or 7/15. I guess they figured there was no need to put a year on it. Kroger was selling for 61 cents a carton;
One of Sunny Hill's Grade A Pasteurized Homogenized Vitamin D milk was dated 7/28.It had Sonny pulling a carton on wheels. Another side pictured a family of four: Mom, Dad, Big Brother and Little Sister with the admonition, "Go to Church Sunday."
Salute the Jaycees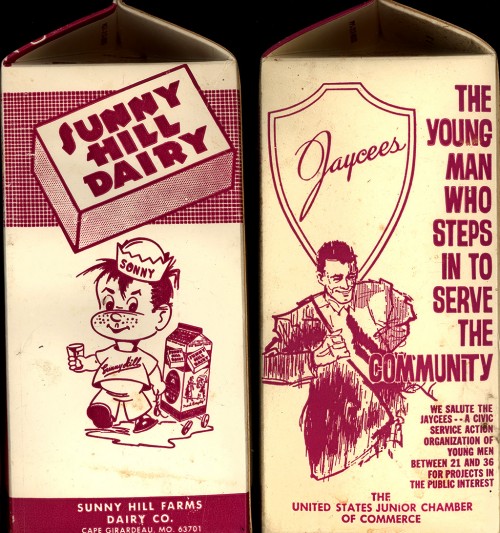 Miss Liberty had a photo of two children running in front of a car. It wanted you to "Drive Safely! … Give the kids a brake! 'A good driver is a safe driver' The life you save may be your own." They wanted to leave no bases uncovered.
Another Sunny Hill (Cape Girardeau, MO 63701) carton saluted the Jaycees – "The young man who steps in to serve the community." Zip Codes, which allowed automated mailing systems to bypass as many as six mail-handling steps, went into effect July 1, 1963. That means this carton had to have been made after that.
Why save them?
Mother wasn't sure why Dad might have saved them. I vaguely remember him putting pecans in them after he had picked them out. I think he may have frozen water in them, too.
I guess the saving trait runs in the family. The last time I cleaned out our attic in West Palm Beach, I threw out about a dozen plastic gallon jugs we had stockpiled for hurricane water supplies. So far as I can recall, we never bothered to fill them. At the start of the season and if a storm is approaching, we stock up on bottled water that I'll eventually use in the coffee maker. We have a well for our sprinkler system that we used to flush the toilets after one storm broke a water main and left much of the city dry for several days. Even if the power is out, we have a generator to run the pump.
Any collectors out there?
Before I use them for really good fire starters, do we have any milk carton collectors out there? I ran it by Laurie at Annie Laurie's Antiques; she said those are such common brands in this area that she doubts there is much demand for them