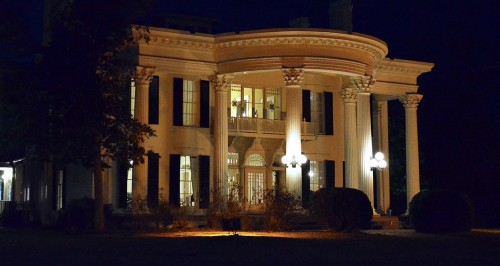 I have three usual routes for going back and forth to Florida and Missouri. In those routes are sub routes. For example, if I'm going by way of I-24 and Nashville, I can either go through Paducah or through Wickliffe. In the old days, I'd usually take the Cairo – Wickliffe – Cadiz track so I could make a short jog over to check out our Kentucky Lake trailer near Benton, Ky.
When I got to Cadiz on my trip back north this time, I could tell that it was going to be too dark and cold to stop at the trailer, so I took the Paducah leg, which is faster.
I usually bypass the Whitehaven Welcome Center at I-24 and U.S. 45 on the west side of Paducah. It's neat looking, but you have to deal with traffic to get there, and, to be honest, I'm usually looking for the rest area equivalent of a fast food joint, not a museum.
I'm glad it was restored
Having said that, I didn't realize how close we were to losing the beautiful old building. It was built in 1860 and restored in 1983 to how it would have looked in 1903.
A story in the Paducah Sun reported "The dilapidated home had fallen prey to thieves and vandalism before the state received a $3 million grant to build a welcome center in 1980. Preservationists and government officials argued for the restoration of the Smith Mansion rather than building a new welcome center, according to Bill Black, preservationist. He said the restoration was $200,000 under budget because of many local donations of furniture, glass and other historic items.
Maybe I haven't been fair to the rest stop. On the way out of Cape, I'm fresh and in a hurry to put miles behind me. On the way TO Cape, I'm tired and want nothing more than to stop seeing the white highway lines whiz by.