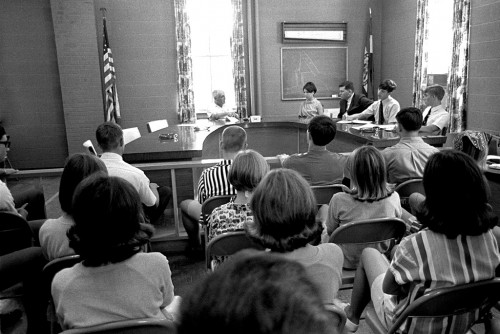 Teenagers filled the city council chambers in August 10, 1967 when members of the Teen Age Club met with Mayor J. Hugh Logan to ask for financial help in keeping the club on Broadview open. Sam McVay, an adult supervisor, said the club would be forced to close September 1 if additional funds were not found. He said that it took about $1,000 a month to run TAC, and that the club treasury would be empty after the August bills were paid.
Most of the club's funding came from the United Fund. Other service clubs kick in, but they have no set pledges, so it's hard to depend on their contributions.
There were 1,056 teenagers who paid a $2 a year membership fee, but this covered only one-sixth of the year's operating expenses. Members also paid 50 cents each on nights when a band played, but this money went to pay the band.
Bands play for free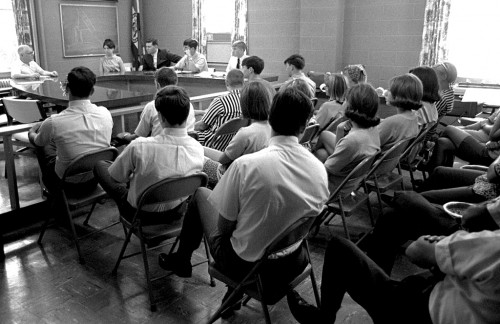 Four of TAC's regular bands agreed to play for free in August; more would join in September if the club remained open.
The Missourian microfilm fades out on the right side of the page, so I couldn't read all of the photo caption. Mayor Logan is on the left, in front of the window; the TAC representatives are Miss Pand?; Sam McVay, director, John Sheets and Walter Lamkin.
Other Teen Age Club links
Here are some other TAC stories: