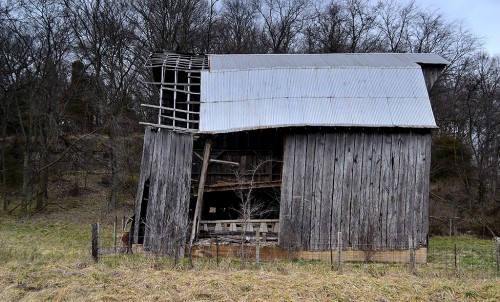 I've passed this barn hundreds of times, and every time I've wondered if it would still be there the next time I was driving Hwy 74 between Cape and Dutchtown. I guess it must be made of some strong stuff, because it's still standing.
Still, I pulled off the road "just in case" a spring storms would be The One. As I looked at the photos, it dawned on me that one of these days old wooden barns will be as scarce as covered bridges. New, modern steel buildings are fast to put up, cheap to build and are efficient, but you can't beat an old barn for aesthetics.
If it had been summer, I'd have stopped to ask the owner if I could wander around. My desire to make art diminishes in direct proportion to the wind chill, so I was content to shoot these pictures from the roadside.
Other barn stories
Barn photo gallery
Click on any photo to make it larger, then click on the left or right side of the image to move through the gallery.