The four most-requested photos are Wimpy's, Pfisters, the original Blue Hole and the Round Barn.
I've run Wimpy's. I sort of have a photo of Pfisters. I have a piece coming soon on the Blue Hole (without a shot of the original Blue Hole Garden). Now, I have a photo of the Round Barn.
This morning I decided to tackle an envelope marked "Dorms 1966 – Arty shots" because I wanted to do a piece on SEMO construction before long. The first thing I spotted was one frame of the Round Barn. One lousy frame. I guess One-Shot Fronyism was starting to rub off on me.
Rock bluffs near the Round Barn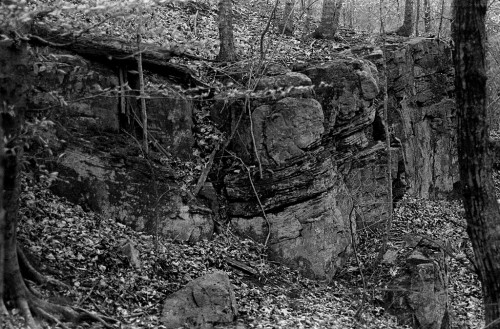 There was one frame of the rock bluffs that were done NEAR the Round Barn.
I have no idea why I was down on South Sprigg on a day when I was shooting on the SEMO campus, and I REALLY have no idea what made me pull off the road to shoot ONE frame of what would become a storied landmark.
Not much for rocks and roots photography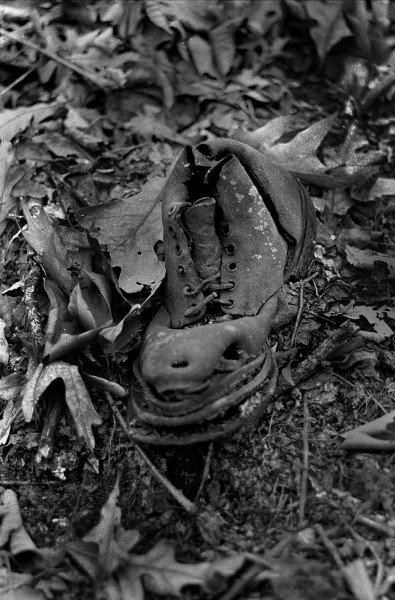 Even more inexplicable is that I shot four photos of a rotting, bullet-holed old shoe on that roll. I'll spare you three of them. You can see I wasn't much of a rocks and roots kind of photographer.
When I was younger, folks would say, "Oh, you want to be a photographer. Do you want to work for National Geographic one day?"
I would shake my head and explain, "National Geographic photographers stand on garbage cans to shoot pretty pictures of roses. I'm the kind of photographer who tramples roses to shoot photos of garbage cans."
History of the Round Barn
I'm going to save myself a bunch of typing. Ray Owen did an extensive write-up about THE Round Barn and round barns in general in 2002. Head on over to The Missourian and read his piece.
Interestingly enough, there were TWO round barns on adjoining farms on S. Sprigg. One owned by Giboney Houck burned down in 1929. The Round Barn shown above fell into disrepair and was torn down in the early 80s.