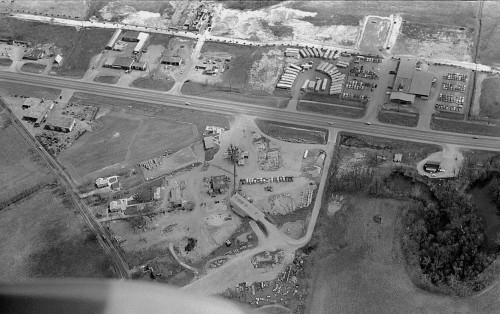 Faithful reader and regular contributor Keith Robinson was in town from Kansas City for a family reunion and suggested that we get together. He was a little young to be on my radar, but he was in Scouts with my brothers and Dad. He's a great resource because he's a model railroader who is attempting to recreate a layout of all of Cape's railroads between Nash Road and Cape Rock. I think he's accounted for every spike that's ever been driven in this area.
He came out to the house and we looked at old photos for a couple of hours. He spotted a landmark that I've thought about often, but would have sworn I never documented. When I started school and we moved out of the trailer that Dad and Mother hauled from job site to job site, we rented a house at 2531 Bloomfield Road. It was a great house for a kid: there was a flat field west of us that was great for playing catch. A sloping field on the east side had some climbing trees at the bottom.
Cape LaCroix Creek oxbow
Best of all for a budding fisherman, The Barn was close enough that I could persuade Mother to take me down to fish in what I thought was a pond, but looks in the aerial to be an oxbow of Cape LaCroix Creek. The Barn, sometimes called The Red Barn, is on the lower right. (Click on the photo to make it larger.)
Cape Ready Mix is center left. Rueseler's Chevrolet is across the street. Click here to see the Chevy dealership at night from the ground.
I couldn't find many stories about The Barn as an eating establishment. As I recall, their specialty was barbecue, but I think they also sold watermelon in season. I think they also had fireworks for the Fourth.
South Kingshighway today
The area looks entirely different. The Barn is long gone. It was located about where the S Kingshighway label is. The shopping mall is in the upper right-hand corner. Southern Parkway, which connects I-55 to the Bill Emerson Memorial Bridge didn't exist in the 60s.
South Kingshighway – Bloomfield Road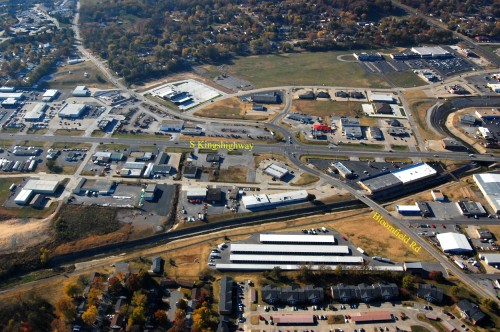 This was taken slightly north of the previous photo and shows the intersection of South Kingshighway and Bloomfield Road. On the far right-center of the photo, where the highway crosses over Cape LaCroix Creek is a small building that I think was Central Packing Company. Whatever it was, it produced the most nauseating stench on a hot day. They had to have been dumping offal into the creek. I've often wondered if the current occupants are aware of what the building had been used for.
Stories about 607 South Kingshighway
Even though I didn't find any stories about The Barn as I remembered it, there were plenty of stories in The Missourian about businesses at that address.
Oct. 18, 1968 – Ad: 8-hour liquidation sale on appliances. Barn Discount Appliance. 607 Kingshighway (south of Plaza)
Dec. 6, 1968 – Ad: Liquidation Auction Sale. New merchandise – name your own price. Red Barn. 8 big sales days before Xmas. Terms: Cash Everything sells. Located 607 South Kingshighway, across from Rueseler Chevrolet.
Oct. 17, 1969 – City council news: Upon a report of the police department, refused the application of Thomas H. Armbruster for a liquor by the drink license at the Barn, South Kingshighway. [Note: I wonder if that's what killed it as an eating and dining establishment?]
Nov. 15, 1969 – Fronabarger business column: There will be a new retail shoe outlet in the city. Dee Dee's Shoe Outlet, specializing in women's footwear, will occupy the site of The Barn on Kingshighway south. The outlet is now located at Dutchtown and is owned and operated by Kenneth Corbin. The store is to be opened soon.
Mar. 1, 1979 – A string of burglaries was reported. "The Dee Dee Shoe Outlet, 607 South Kingshighway, was also reported burglarized. Two six-packs of Coors beer were reported missing." [Note: beer break-in at a shoe store?]
June 27, 1982 – A burglary was reported at Dee Dee's Shoes, 607 South Kingshighway. Entry was gained by removing a padlock from a door on the south side of the building. Taken were eight pairs of women's shoes, a 15-inch color television set, a radio and a fire extinguisher. Loss was estimated at about $275. [Note: Total loss for all of that was $275?]
Dec. 29, 1986 – Kingsway Nissan, 607 S. Kingshighway, joined group ad urging readers not to drink and drive.
July 11, 1988 – Michael S. Hurt reported a car stereo stolen Sunday morning at 607 South Kingshighway. (Coad Chevrolet, across the street, was also hit for an AM/FM cassette car stereo.)
Feb. 23, 1989 – A Jetsound AM/FM cassette radio and power booster belonging to Kingsway Nissan was stolen from 607 South Kingshighway, it was reported Wednesday. [Note: I wonder if it was an 8-track? It would be fun to see if I could find the date when the last 8-track stereo was stolen in Cape. Last week?}
Sept. 28, 1989 – Auffenberg Nissan – Jeep – Eagle looking to fill full-time office position for someone experienced in computer accounting, car deals, accounts payable, accounts receivable and payroll.
Feb. 24, 1994 – Business wrapup: Crown Cadillac Old Nissan, which moved from Independence to 607 S. Kingshighway last year, reported a healthy increase in sales in 1993.
Mar. 30, 1998 – Business personnel column: Ray Drury is retiring from the automotive industry after 39 years. Drury will retire Tuesday from Crown Cadillac Olds Nissan, 607 S. Kinghighway, after six years with the company as salesman.