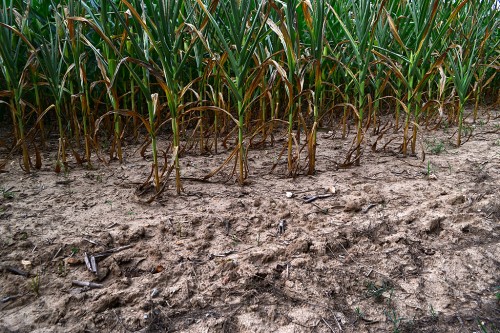 Mother and I took a swing over to Jackson so I could get my Wib's BBQ fix. The sky to the west looked dark blue and the radar was painting lots of reds and yellows. As soon as the server had taken our order, there was a brilliant flash outside the window. To be on the safe side, I went out to the car to get the umbrella.
That probably doomed Mother's corn crop down at Dutchtown. It didn't rain at Wib's. This guy's field doesn't look all that great, either.
I stood on a high piece of ground in Fruitland trying to get a look at a controversial quarry there. I missed a couple of good lightning bolts (they missed me, too. Otherwise you wouldn't be reading this). No rain.
Egypt Mills Trinity Lutheran Church
After my presentation at the Altenburg Museum Tuesday night, Tom Neumeyer mentioned that he had seen a large Steinhoff headstone at the Trinity Lutheran Church at Egypt Mills.
So, we went out past the KFVS TV tower (once the world's tallest structure), to check it out. We found several stones and recognized some of the names, but they weren't part of our immediate clan.
I liked the look of this small outbuilding and took a couple of frames while being teased by rumbles and flashes. (You can click on the photos to make them larger.)
Heat records shattered
Heat records are being shattered as are records for the number of days in a row the temperature has hit 100 or higher.  The last time St. Louis was this hot for this long was in 1936, said Jim Keeney, a meteorologist with the National Weather Service Central Region Headquarters in Kansas City, Mo. Then, the city recorded 13 days in a row of temperatures 100 degrees Fahrenheit or over. That devastating heat wave of the mid-'30s killed thousands of people and destroyed many crops.
We see clouds build up, hear thunder, see impressive radar returns, then the storms dissipate or split, going around Cape.
Hoping to walk to Tower Rock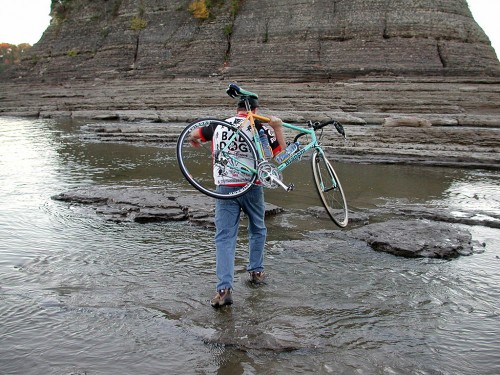 The Southeast Missouri Geocaching folks are keeping a close eye on the Mississippi River gauges at Chester and Cape Girardeau. When the Chester gauge reads 0 and / or the Cape gauge reads 7, the water is low enough to walk across to Tower Rock, just south of Wittenberg. The gauges are at 5.39 and 11.23, with a gentle rise predicted.
Brother Mark and I picked our way to it October 12, 2003. He climbed to the top of the rock with his bicycle for reasons only he could explain.