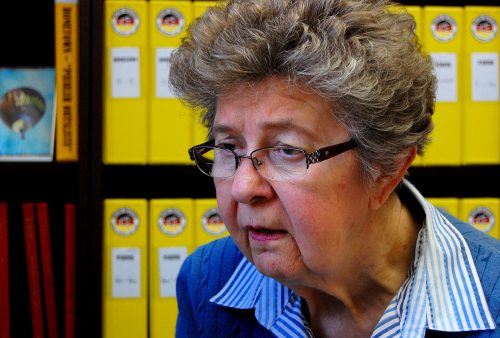 Tiny Altenburg said goodbye to one of its best-known members on Wednesday, November 7, 2018. Lillian (Schilling) Fiehler was a long-time resident of the town of 352, a member of the Bucket Brigade, and one of The Last Generation to speak German as a primary language growing up.
I feel like I have to tell a little about Lillian's town before I dive into her life. (You can click on the photos to make them larger, then use your arrow keys to step through them.)
When I showed up at the Lutheran Heritage Center and Museum on Nov. 17, 2010, with an armload of photos of Wittenberg, it never dawned on my how it would change the way I look at my pictures. The diminutive Lillian introduced me to museum director Carla Jordan, who handed me off to Wilmar Degenhardt, who was astounded to find that I had taken aerial photos of the house he was born in.
Decorating Christmas trees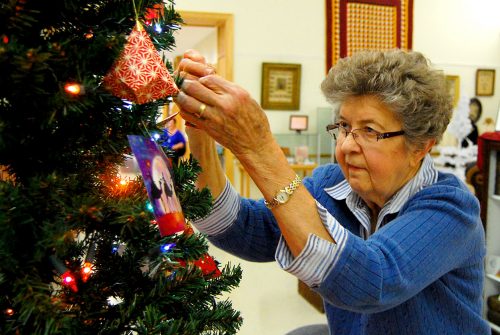 It wasn't long before I found myself making regular 66-mile round trips to the museum where I would watch volunteers like Lillian working on things like the annual Christmas tree exhibit (which they are decorating right now, by the way).
Insular, but friendly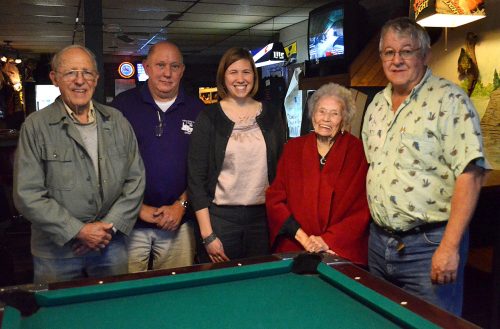 The amazing thing about Altenburg, one of eight German-Saxon communities founded in the 1830s, was how it could be both insular and extraordinarily welcoming.,
One day when I complimented Wilmar on how well homes were maintained, and how the yards were well-kept, he leaned over conspiratorially and all but whispered, "Yeah, but the ENGLISH are coming." That he shared that with me made me feel like I was accepted.
When I took Mother and Curator Jessica to the Mississippi Mud (now Grayson's Bar & Grill), It wasn't long before Lillian's son, Gerard pulled up a chair. Soon chairs were scraping across the floor to be be occupied by Schmidts, Deganhardts and others with Deutch-sounding names.
You'll never find yourself eating alone at Grayson's.
Gerard and his dad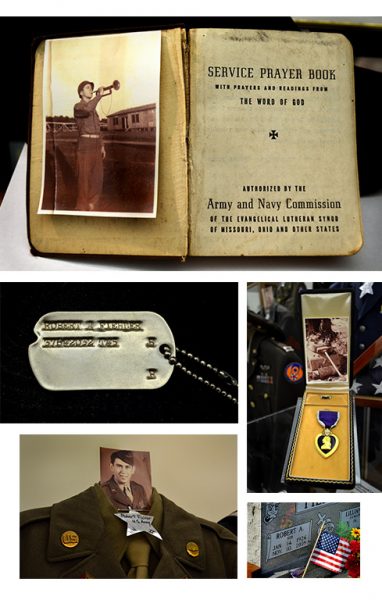 I've spent many hours sitting with Gerard at Tower Rock, watching logs drifting to New Orleans, and waiting for the whirlpool the natives called The Demon That Devours Travelers to spin up.
In 2014, I did a video of Gerard talking about his dad, Bob, who was drafted at age 19 to go fight in the Battle of the Bulge as a tank driver. It's worth watching.
I worry a little about Gerard. At the end of the video, he says, "One of my sisters said that "You didn't just lose your dad. You lost your best friend." Many of the stories that his dad told him ended with the tagline, "Don't tell your mom." Now, unfortunately, he won't have that option.
Lillian's obituary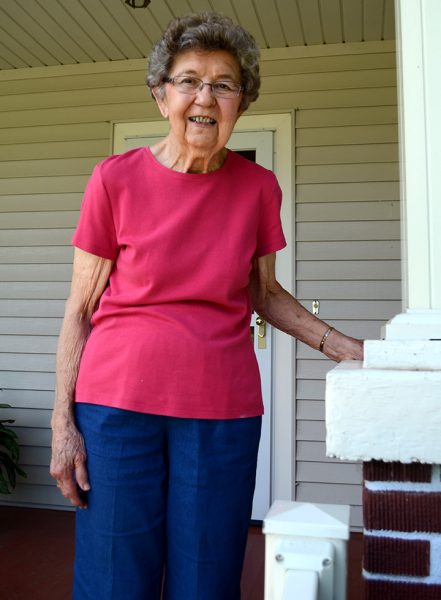 Lillian Marie (Schilling) Fiehler, 88, of Altenburg, was taken home to be with the Lord, Friday, November 2, 2018.
She was born November 16, 1929, in Altenburg, daughter of Rudy and Clara (Loebs) Schilling. She was baptized and confirmed at Trinity Lutheran Church where she worshiped her entire life.
Lillian married Robert (Bob) Fiehler on June 18, 1950. Their marriage was blessed with five children: Gerard Fiehler, Altenburg; Susan Fiehler, St Louis; Carla (Kent) Grebing, Altenburg; Ellen (John) Linxwiler, St. Louis; and Timothy Fiehler, St Louis. She is also survived by five grandchildren: Jacob (Sarah) Fiehler, Alison (Brian) Funke, Barrett (Chrysta) Grebing, Nick (Sarah) Fiehler, and Ben Linxwiler. Also, seven great-grandchildren; Jack, Faith, and Blythe Funke, Ella and Vivian Fiehler, Theo Grebing, and Aubrey Fiehler.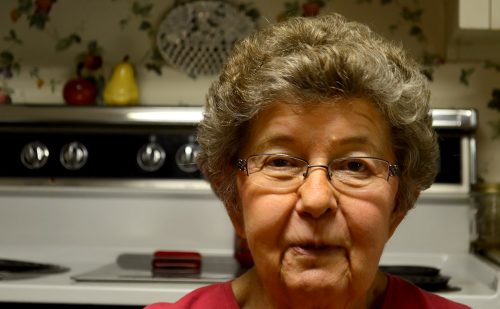 Survivors also include two brothers and two sisters, Myrtle Kuehnert, Melvin (Mary) Schilling, Lorene (Leonard) Haertling, and Harold (Deb) Schilling and one sister-in-law, Lois Kersten, and numerous other family and friends.
Lillian was preceded in death by her parents, her husband, brothers, Raymond Schilling, Leonard Schilling, and a grandson, Wade Fiehler.
Lillian spent many enjoyable years serving numerous families as part of the "East Perry County Bucket Brigade." Many of these families became part of her extended "family." She also enjoyed her many carpool friends.
Throughout Lillian's life, she participated in a variety of church activities including singing in the Trinity Choir, LWML, and serving as a docent at the Lutheran Heritage Center.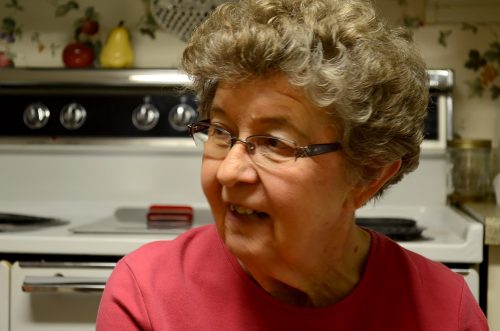 Lillian's greatest passion in life was caring for her son, Tim, who has Down Syndrome. She exercised great zeal for Tim to know the Lord and be active in church and the community. The family is grateful for the care that Tim receives at the Emmaus Group Home.
Lillian will always be remembered for her beautiful yard, love of cooking, baking, sewing and hosting people in her home.
Lillian enjoyed living at Independence Care and her family will always be grateful for the care that she received in her years there as a resident.