Here's a math problem
Number of trips to and from Trinity Lutheran School (six grades times 180) = 1,080
Number of trips to Central High School for classes (4 times 180) = 720
Trips to pick up Future Wife Lila after work at the Rialto = 50
Cruising Broadway to the River and back = 300
Coming and going to The Missourian (4 years times 300) = 1,200
Grand total number of times I passed the intersection of Broadway and Cordelia = a gazillion
Number of times I saw this historical marker at that intersection = once, about a week ago.
This is what it says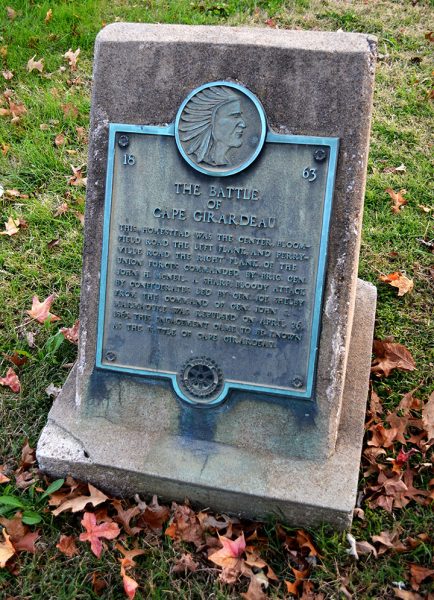 The Battle of Cape Girardeau
This homestead was the center, Bloomfield Road the left flank, and Perryville Road the right flank, of the Union forces commanded by Brig. Gen. John H. McNeil. A sharp, bloody attack by Confederates led by Gen. Joe Shelby from the command of Gen. John S. Marmaduke was repulsed on April 26, 1863. This engagement came to be known as The Battle of Cape Girardeau.
Civil War Links
Here are some posts I've done about the Civil War in the Southeast Missouri area.