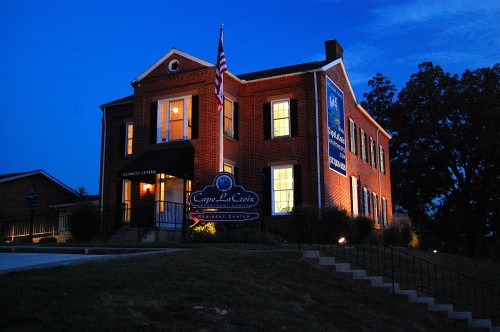 A reader asked if I knew anything about a big brick house that stood on the hill on Bloomfield Rd., just east of Kingshighway. It didn't ring a bell, but Mother said, "Wasn't that where those old maids lived?"
She was, of course, right.
The building, now more than 150 years old, is the resident center for the Cape LaCroix moderate-income apartments. I never realized that the building existed, much less its importance to the city's history.
Misses Mary and Jean Burrough
Two old women HAD lived in the house. Misses Mary and Jean Burrough (which is the way they were referred to in almost every story) died in the early 50s. Along with stories about teas and socials, were these three Missourian stories:
Dec. 12, 1944 – Misses Mary and Jean Burrough, 2121 Bloomfield St., have Christmas presents for Cape Girardeau youngsters who like dogs. A stray mother dog and eight pups came to the Burrough home a few days ago and the owner has not been located. Youngsters can have the canine brood for the asking.
Oct. 13, 1948 – A mother and her three puppies, the latter six months old, are available to anyone who will give them a good home, Misses Mary and Jean Burrough, 2121 Bloomfield Rd., told The Missourian today. The animals, of mixed breed, are handsome ones and healthy. The mother came to the Burrough home, Kenwood, uninvited several months ago, but since there are six other dogs on the place things are becoming somewhat overcrowded.
Oct. 14, 1948 – Misses Mary and Jean Burroughs, 2121 Bloomfield Rd. who said yesterday they would give away a mother dog and three puppies, had many telephone calls last night and gave away one of the young canines.
Kenrick Burrough, last survivor
Excerpts from a Dec. 3, 1960, Missourian Kenrick Burrough obituary that's worth reading in its entirety:
Kenrick Burrough, last surviving member of a family that featured prominently in Cape Girardeau's legal and social life for more than a century died today… His parents were the late Judge and Mrs. Frank E. Burrough and their family home, now 101 years old, was at 2121 Bloomfield. Mr. Burrough's sisters, Misses Mary and Jean Burrough, the last prior members of the family, died on Mar. 18, 1952, and Aug. 22, 1953, respectively.
Called by a colleague "one of the most brilliant men ever to have his origin in Cape Girardeau, Mr. Burrough was widely known in the legal profession, practiced by his father and grandfather before him, until an illness in the early 1930 forced his retirement.

Youngest judge to sit on the bench
Mr. Burrough's father died on Dec. 9, 1903, when the son was 12 years old. He had served as judge of the Common Pleas Court from 1897 to 1900 and was the youngest to sit on the bench of that court.
Judge Burrough's father was Jacob H. Burrough, who died on Dec. 2, 1872. He had come to Cape Girardeau at the age of 22 and the family resided on Spanish street. Subsequently, Judge Burrough acquired the large estate bearing the family name on Bloomfield Road. It had been built in 1859 by Cong. Samuel Caruthers. [For whom Caruthersville was named.]
Jacob Burrough was prominent in the law in southeast Missouri and was a U.S. Marshal for this district. He,too, was a man of education, and during the days of steamboat traffic, he became acquainted with Mark Twain during the latter's stops in Cape Girardeau.
Pre-Civil War heritage lost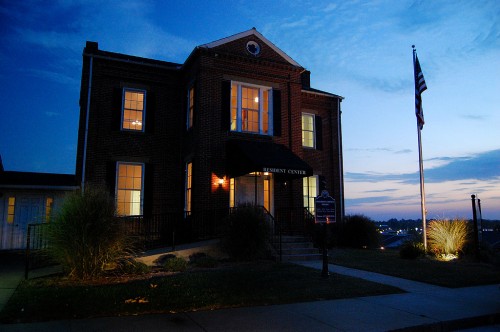 George McCue wrote in The St. Louis Post-Dispatch that the Burrough farm was an "intact early Missouri array of pre-Civil War house, beautifully crafted barn and brick ice house, all in a grove of fine old trees on 10 upland acres."
McCue went on to explain that some townspeople had the impression that Kenrick Burrough had bequeathed the property to the city, but when he died, it went instead to a cousin in Kentucky. A zoning change from one-family to multi-family didn't attract attention around town.
The park board had just acquired a 78-acre tract nearby for $2,700 an acre, but the new owners wanted $10,000 an acre. The property was acquired by Clover Leaf Construction Co. of Indianapolis, which swung a deal with HUD to put up medium income apartments on what Patricia Holmes, State Park Board architectural reseacher, has called "one of the state's best example of a Pre-Civil War farmstead."
McCue's piece goes into much more detail.
Confederate soldiers sheltered during Battle of Cape
A Bicentennial feature by Ann Dittlinger descibed how Confederate forces were sheltered by the hill where the Burrough farm was located when they were being shelled by batteries from Fort C.
In 1975, Melvin A. McMillen dug up a cannon ball, pieces of human bones and four buttons from a Union soldier's uniform in his garden on Sheridan drive (the nearby street Wife Lila lived on when I met her). That find led to the discovery of four more cannon balls that year.
300-year-old tree cut down
Southeast Missourian brief, Sept. 25, 1974: "A gigantic black oak tree believed to be at least 300 years old is leaving the Bloomfield Road scene. The landmark is being removed because its huge branches were damaging roofs at the Cloverleaf housing development. Said to be one of the largest trees in Cape Girardeau, the once-mighty oak was nearly 150 feet high and about eight feet in diameter.