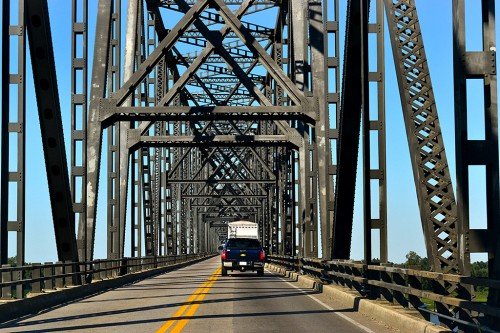 I really enjoyed my visit to Cape, but it was time to get back to Florida. Judge Bill Hopkins said he had gotten a call from Wife Lila asking how long I had to be gone before she could have me declared legally dead.
Since I was headed that way, Mother said she'd follow me in her car (for the record, she may be 90, but she's still a good driver) over to her trailer on Kentucky Lake so I could help her turn on the water and check for any problems.
Not surprisingly, it took me longer than anticipated to get everything loaded in my van. Because of the late start, we didn't waste any time sightseeing along the way. I did bang off a couple of frames as we headed over the Ohio River bridge leaving Cairo for Wickliffe. You can tell that it's about as wide as the old Cape Mississippi River Bridge (plus it's got that crazy 90-degree bend on the Kentucky end).
35 years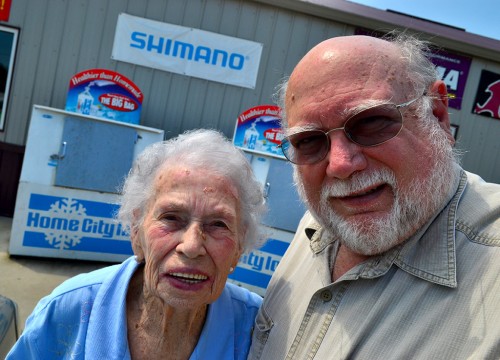 The pipes at the trailer froze winter before last, so she had to have them replaced. When I went to turn on the water, nothing happened. After much head scratching and mosquito swatting, I discovered that they had moved the main shutoff valve. I decided to stay there overnight instead of pressing on to Nashville as I had planned.
By coincidence, we were there on August 7, 35 years to the day when Dad had a heart attack at the lake and died. When folks posted stories this week about it being the week that Elvis died, I tell 'em that my dad died that week too; the difference is that I don't miss Elvis.
We were going to eat breakfast, but the place we planned on stopping at was closed, so we said our goodbyes at a gas station. I'm getting a little better at the teenage girl self-portrait thing. My arm must be getting longer.
More narrow bridges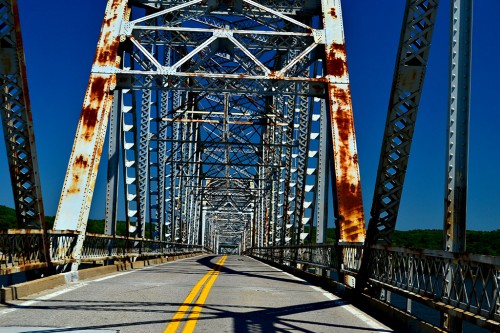 I'm glad I'm not pulling a travel trailer or driving an 18-wheeler. These bridges linking sections of the Land Between the Lakes are narrow and showing their age. At one time, I could have told you what body of water these cross, but I have long ago jettisoned that knowledge.
I covered the aftermath of the Silver Bridge collapse on Dec. 15, 1967. The eyebar-chain suspension bridge linking Point Pleasant, W Va., and Gallipolis, Oh., failed while it was filled with rush-hour holiday shoppers. Forty-six people died in the icy waters of the Ohio River.
When I cross a bridge with a lot of rust on it, I wonder whether it's cosmetic or whether it's another Silver Bridge waiting to happen.
Photo gallery of Kentucky bridges
I think the shadows of the bridge structure are interesting. I have to admit I wasn't doing any careful composing. I was just holding the camera with one hand and trying to keep from scraping the bridge railing with the other. I didn't see the shadows until I saw them on the computer screen. Click on any photo to make it larger, then click on the left or right side to move through the gallery.