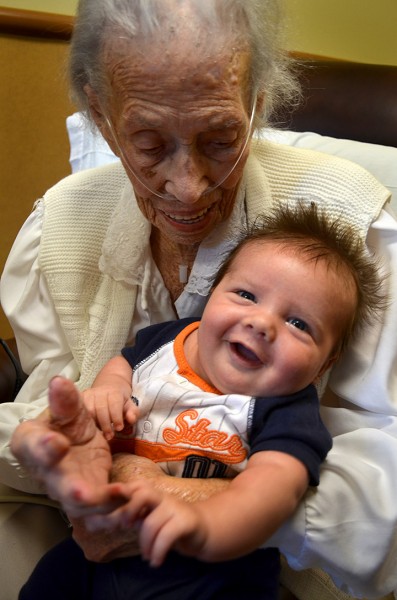 Niece Amy is getting married in Tulsa this weekend, so there has been a mass exodus from Florida headed to Oklahoma. It wasn't exactly on the path, but Sons Adam and Matt, their spouses and their brood, stopped by to see Mother, who is very much on the mend.
She and I both finally got to meet the newest arrival, Finn Levi Steinhoff. You can click on the photos if you want to be exposed to excessive cuteness.
Four generations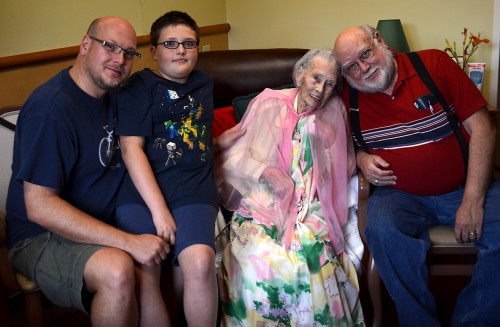 Mother, Matt, Malcolm and I got together to update the last four-generation photo we took several years ago.
It was decided that three months was too long for me to go without a haircut and beard trim. (Like my barber says, "There are two kinds of men with hair on their faces: those who have beards and those who don't shave." I'm pretty sure I had slipped into that second category.)
I polled my Facebook friends and got several suggestions for a local barber. My requirements: "I want an old-fashioned barber. I don't want a stylist, I don't want the place to smell like hair spray, and I want a REAL barber chair, not some light-weight aluminum job." Basically, I was looking for Ed Unger, but he retired in 1983.
I eliminated the ones from Bill Hopkins that suggested PETCO and a barber who is pretty good "when he is sober." For the record, I was very happy with Scott at the Varsity Barber Shop.
Cards keep coming in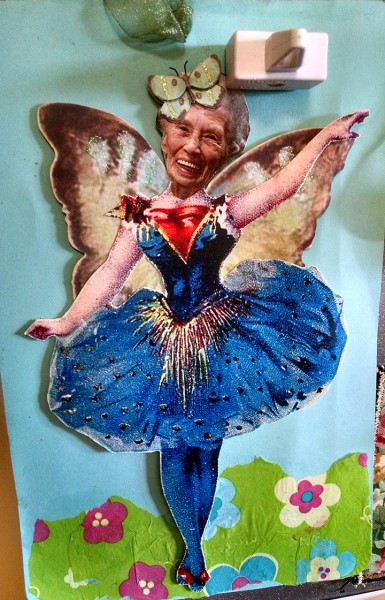 When I mentioned that Mother loves getting mail, scores of you sent some really cool cards. This one, by Jane Paquin, 74, of Seal Beach, Cal., was one of the most unique.
Tower Rock Whirlpool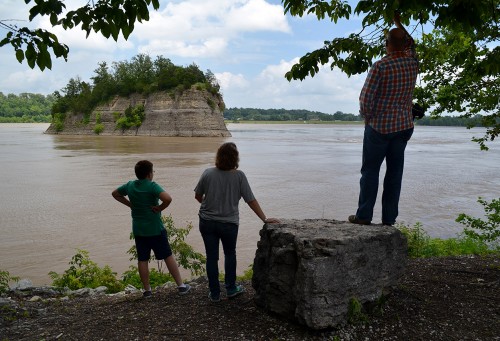 The whirlpool south of Tower Rock kept trying to get organized, but it would dissipate before it got going good. Still, it was fun for the group to guess whether a floating log would get pulled into the swirling water or if it would escape and go straight downstream.
I've driven the road between Cape and Wittenberg so many times that I take the hills and curves a little on the fast side. About two-thirds of the way there, Daughter-in-Law Sarah looked at Malcolm and warned, "I think we're about to have a Dramamine moment back here." I slowed down.
Gerard to the rescue
When we made it to the Altenburg Lutheran Heritage Center and Museum, Gerard Fiehler came to the rescue with a can of soda to calm things down. Before long, Malcolm was listening to Gerard tell him (and let him see for himself) the difference between how a harpsichord and a piano make sounds.
He liked the whirlpool, liked the museum, liked picking up railroad spikes along the train tracks, but he REALLY liked driving his great-grandmother's riding mower around the back yard.
"Look at all the alligators"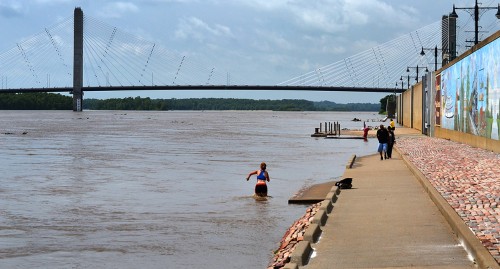 When we went down to the riverfront, Graham looked at all the logs floating down the river and said, "Look at all the alligators!" You can tell he's a Florida boy.
They got to splash rocks, see a towboat taking on fuel, touch the river and look at the mural on the flood wall. It's a good thing they didn't see this woman doing The Foolish Frolic in the floodwaters. They'd have probably tried it and ended up in New Orleans.
River walk photo gallery
Click on any photo to make it larger, then use your arrow keys to move through the gallery. In order of tallness: Adam, Carly, Graham, Elliot and (being carried), Finn.