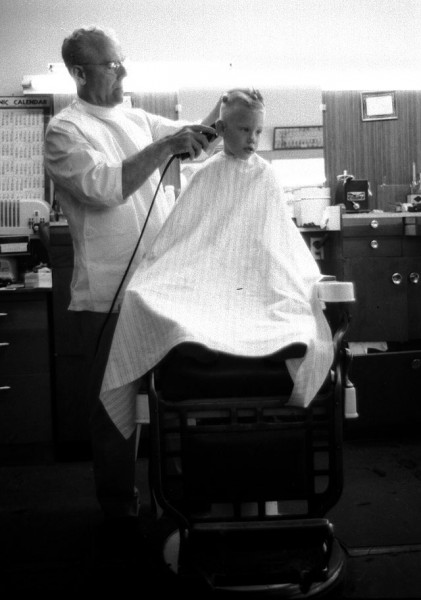 The Southeast Missourian's Out of the Past column on December 13, 2008 carried this note:
25 Years Ago: Feb. 13, 1983
After a million or more snips, Ed Unger is putting away his hair clippers and razor and retiring from the barber profession; Unger began barbering in 1935 on Main Street; he has been associated with several shops virtually all over Cape Girardeau.
Ed Unger knew my head well
Back in the days when I still had hair to cut, Ed Unger was most likely the guy who did it.
I don't know who this kid is, but I was probably about that age or younger when Ed gave me my first trim.
The best part was that he didn't mind if I read comic books while he was working away.
A Machine for Contemplation
Wright Morris, in his book, God's Country and My People, described the barber chair this way:
A machine for contemplation, a throne for reflection, a couch for taking in or giving out information, capable of elevation, bodily suspension, facial and tonsorial transformation, the Iron Age went on to more imposing constructions, but none of them so well scaled to the nature of man.
Seated on a cushioned board placed across the chair arms, I first appraised the world from a point of elevation, observed my new head emerge from my old one, experienced the baptism of green tonic, held my breath in the cloud of fragrant talcum, and as I descended, heard the voice of authority pronounce the code word, "Next."
I have my own throne
When my brother Mark said that a buddy's dad was selling three barber chairs from his shop, I told him to snatch one up for me. It took a U-Haul trailer to get it from Missouri to Florida and three friends to help get it into the house, but it's been ensconced in my living room for over 35 years. It's getting a little tired, but grandson Malcolm still likes to be pumped up and down in it.
Don't discuss politics
My hair was a bit shaggy when I started working at The Athens (OH) Messenger in 1968, so I hopped into a barber chair to be made more presentable. At some point in the conversation, I mentioned my new job.
I was stretched out in the chair while he shaved under my neck with a straight razor when he asked, "Do you know 'Joe Smith', who's running for whatever?"
"Yeah, I shot him last week. There's a guy who's a couple bricks short of a load."
His next two sentences were, "He's my uncle, " and "Oops."
I didn't bleed much
I didn't bleed much, but my conversation in a barber shop is now limited
"Mornin.'"
"The usual."
"Thanks."