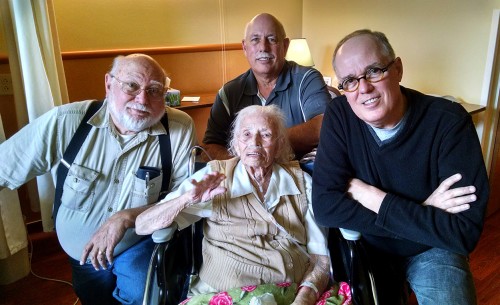 After more than a year of posting seven days a week, you may have noticed that I've been slacking off.
This has been a rough winter for Mother: she had her heart shocked back into rhythm in February, her pacemaker was replaced and she's been sucking down supplemental oxygen to help her breathe (her oxygen saturation is higher than mine, so it must be working). In addition to the miserable weather that kept her trapped in the house, her circle of friends is getting smaller and smaller, which has made her a bit gloomy.
Regaining her strength
Different combinations of Mark, David and I have been keeping her company, but we determined that we didn't have the expertise to get her back up to speed. She's moved into the Lutheran Home temporarily so she can get physical therapy and gain some weight back. She's got plenty of muscles from mowing the lawn, blowing leaves and going up and down the basement steps, but she's working on learning how to use those muscles more effectively when you're 93, going on 94.
I like the Lutheran Home
I've done quite a few stories over the years about healthcare facilities, including some that are no longer in business in Cape County. Most of the stories, sad to say, were about neglect and abuses.
The first thing I noticed about the Lutheran Home was that it didn't smell. It's clean and shiny.
The staff is friendly and caring. I'm usually there from late afternoon, through the evening meal and wind down watching a movie with Mother until she falls asleep, so I've had plenty of time over the last couple of months to get to know the folks who work there. They are stretched a little thin, but that's a management issue, not anything the individual nurses, aides and therapists can control. I'm impressed.
Cards and letters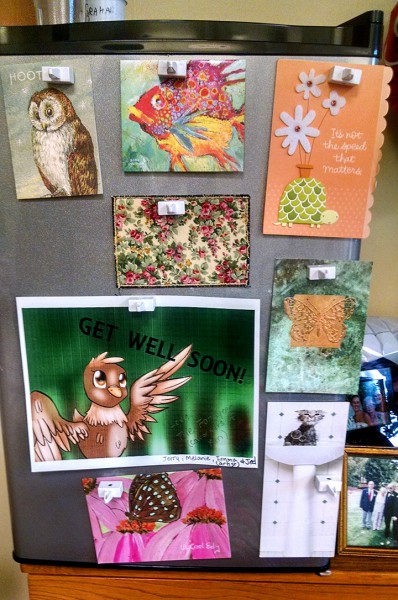 Road Warriorette Jan put the word out to her wide network of friends that she knew someone who would love to get some cards in the mail. Before long, Mother was getting batches of unique and interesting cards from all over the country. It has certainly given her something to look forward to.
If you'd like to send her a note, here's her address until she gets back home.
Mary Steinhoff
Lutheran Home Room 217
2825 Bloomfield Road
Cape Girardeau, MO 63703
Back to work
I'm way behind on some projects, but I'll try to post to this blog a little more regularly. Thanks to you folks who sent me email saying you missed seeing the morning posts.
I also need to thank Marty Riley and Rachael Criddle who have been a tremendous help over the past few months. It's nice to have folks around who can explain medicines and procedures to you in non-doctorspeak.