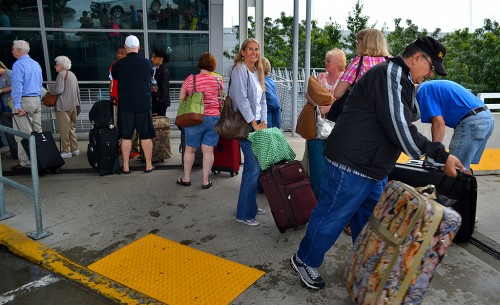 Friend Anne and Wife Lila hopped on a plane at St. Louis's Lambert Airport Tuesday morning. (Lila isn't in the picture because she's still on the shuttle.) Just as I started to pull off, I thought, "Maybe I should bookend the trip by getting a final shot of her leaving Missouri."
'It's just my daughter….'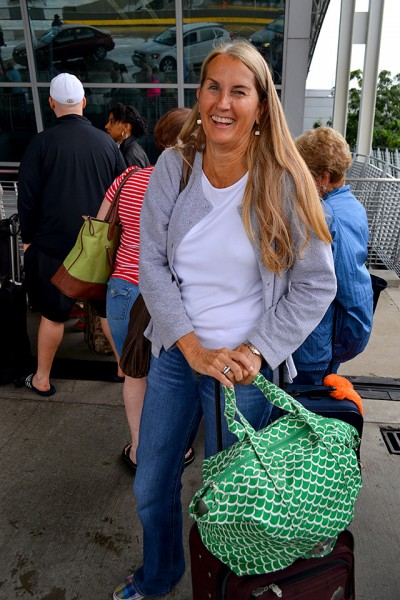 I got out of the car, called her name and watched heads swivel around. To avoid attracting the attention of the security folks, I announced in a loud voice, "It's OK. I'm just sending my daughter off to school."
(I'm pretty sure Anne paid that woman to say, "Looks more like his granddaughter," but I could be mistaken.)
On our first day on the road, the server said, when I asked about an item on the menu, "I find that a little on the spicy side. The couple behind you ordered it, though."
I started to get up. Anne put her hand on my arm. "You wouldn't, would you?" Yep, I would. The server was right. The couple agreed that it might be a bit too spicy for a long road trip that late in the evening. Anne knew from that moment on to expect the unexpected. I have no shame.
Stuff to remember
Once she gets past the cringing and embarrassments, I hope she'll remember all the cool stuff we saw and the people we met.
The gas tank read somewhere between "Low Fuel" and "Who gets to walk for gas?" when we pulled out of Wib's, but Anne and Lila wanted to shoot a sunset. While they were making art, I was looking at this mailbox and thinking that sometime over the next couple of days, maybe a mailperson would come by and take the survivors back to civilization.
Boat traffic on the Mississippi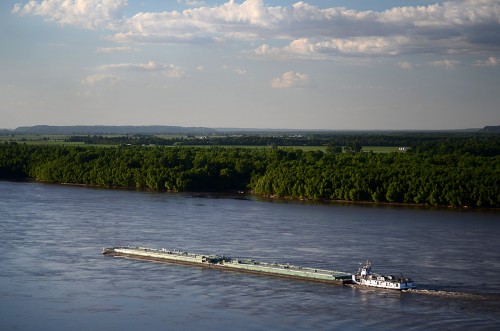 We stopped at the overlook in Trail of Tears State Park only to be greeted by a nice ranger who said, "This part of the park closes at 7:00 and it's 7:05." Anne must have batted her eyelashes at him, because he waved us on, saving me from having to pull out one of my "we're newlyweds" stories. I knew there was a reason to bring her along.
Bald Knob Cross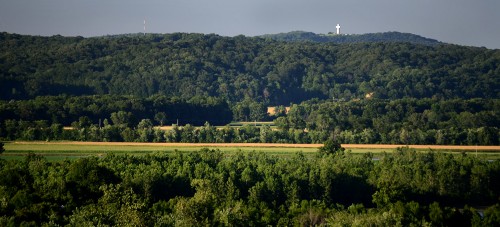 Looking up and to our right, we saw one of the clearest views of the Bald Knob Cross I've seen in years. Anne resisted directing any bald knob comments in my direction, for which I was grateful.
Spectacular rainbow

Shortly after I took this photo of an irrigation system, the temperature dropped about 15 degrees and we were met with a gust of wind that sent umbrellas flying, accompanied by a brief squall. After the storm moved on, a double rainbow of incredible intensity formed off to our side. It's the first time I can recall actually feeling like I could see where it was touching the ground.
Good persimmon crop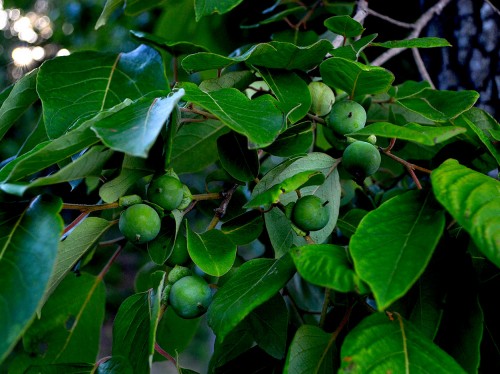 I can't take anyone to Missouri without showing them the Lutheran Heritage Museum in Altenburg and Tower Rock. We coasted into town after the museum closed, but we spotted Gerard Fiehler pedaling down the street. He recognized my van, pulled over and agreed to open the museum for us even though he was hot and sweaty from mowing.
If they don't fall or get blown off, it looks like Mother's favorite tree is going to have a good crop of persimmons.
Flood not so good for fish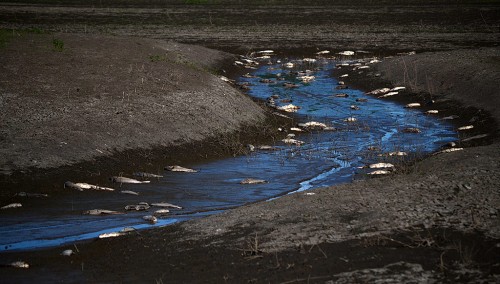 We spotted lots of vultures sitting on the wires of the suspension pipeline, but didn't think much of it. When we drove out of Wittenberg and over to Frogtown, we saw lots of white wading birds off in the distance. When we got past where the old train depot and church would have been, we noticed all sorts of white objects in the fields.
They turned out to be huge carp and other fish who had come in on the flood waters, then gotten trapped when the waters went out quickly. My guess is that the white wading birds were going after the live fish because they weren't bothering the carrion. The vultures had probably had their fill for the day (or like their food a little riper).
Years have taken toll
The years and high winds have taken their toll on this old barn seen on the way back home from Altenburg. You can click on the photos to make them larger, by the way.
Here are earlier Anne road trip stories:
Don't forget First Friday
If you missed me at Hastings, stop in at Annie Laurie's Antiques on First Friday, July 5. I'll have Snapshots of Cape Girardeau calendars and Smelterville books. I'll be there from 6pmish until 10 or when I start snoring and Laurie kicks me out.