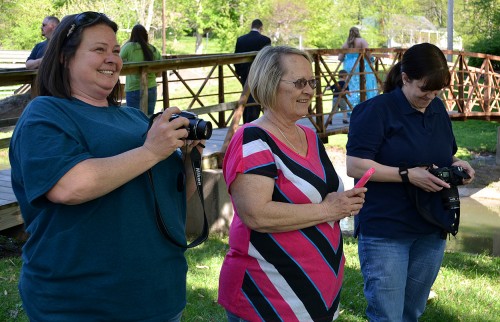 Mother and I were on our way to Wib's in Jackson for my last BBQ before leaving Missouri. On the way past Jackson's city park, a flash of glow-in-the-dark green and a small crowd caught our eye. I did a U-turn (causing Mother to gasp uncharacteristically when she thought I turned too quickly in front of an oncoming car) and headed into the park.
We drove around spotting other gaggles of kids in fancy clothes and even a horse-drawn carriage. Pulling up to the Green Gal gaggle, I rolled down the window and asked, "Wedding or prom?"
It was the Jackson High School prom.
The Green Gal Gaggle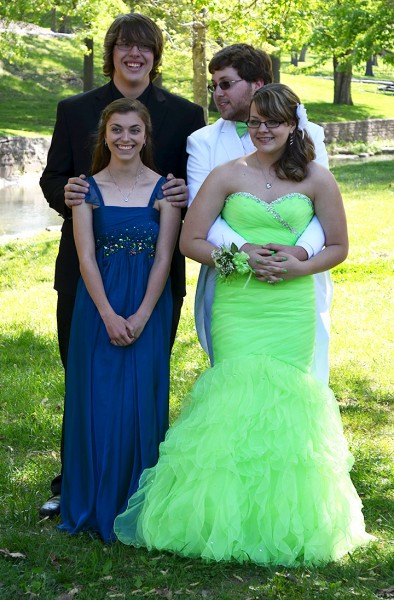 The foursome provided names: Tessa Long and Amanda Matlock are in the front row, left to right, and their dates are Mitchell Graham and Alex Wright.
[Editor's note: When I asked if was a wedding or a prom and was told "prom," I joked, "Well, since you are all dressed up anyway, why don't you go ahead and get married?" I got a call this morning that I must have had that on my mind when I was typing at 2 in the morning, because in the first posting of the story, I called Amanda Matlock "Amanda Wright." I guess I was determined to marry her off. I have officially annulled her marriage and given her back her maiden name. Another note: the kids were home by 1 a.m. The prom ended at 11 and the stopped at Denny's on the way home. I guess the younger Jackson generation doesn't have the stamina that the Cape Central Class of '65 had: our party lasted all night.]
Color coordination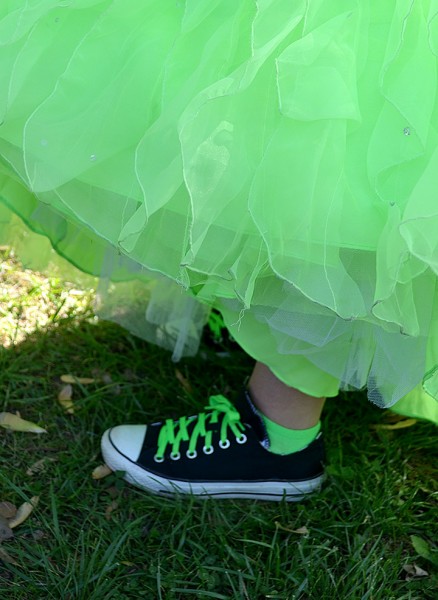 Alex's tie matches Amanda's dress, but Amanda went him one better with her green socks and shoelaces. This is a gal who looks like she's ready for some serious dancing.
Our May 4th memories will be different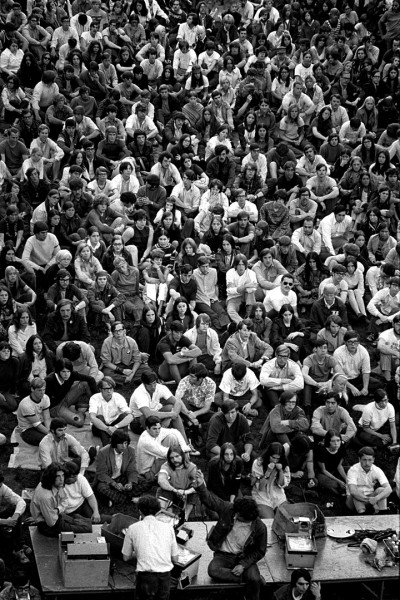 When Tessa, Mitchell, Alex and Amanda wake up on May 4, their memories of that date are going to different than mine. They are going to remember the clothes, dancing, music and fun.
I'm going to remember four Kent State students who were gunned down by the Ohio National Guard on May 4, 1970. Former Palm Beach Post chief photographer John J. Lopinot sends me an email every year: "Never Forget." I don't intend to.
Another photographer and I were on our way to Marietta, Ohio, to a surplus store where we were going to pick up riot gear and head up to Kent State. We were about half-way there when a radio news bulletin reported the shootings, although the initial garbled reports had the guardsman as being the ones shot. We elected to get the gear and head back to Athens and Ohio University, because we didn't know how our campus was going to react.
4,000 gathered on College Green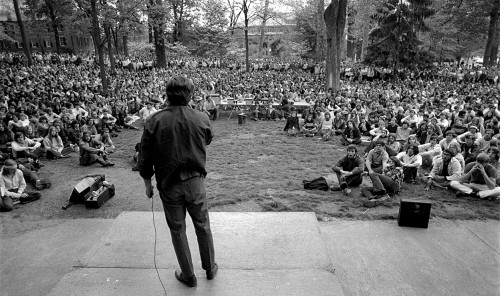 The protest movement up until that point was fairly small and made up of "radical" students. That afternoon and evening, though, as many as 4,000 students, professors, townspeople, preachers and even a congressional candidate crowded onto the College Green to listen to speeches and to figure out what was going to happen next.
The most moving moment was when a young woman who said she was a Kent State student came out of the darkness and grabbed the microphone. She said she and some of her friends had witnessed the shootings and had agreed to fan out to the other state schools to beg the students not to allow a similar bloody confrontation to happen.
"The kids at Kent are running scared," she was quoted by Tom Price in The Athens Messenger. "Don't bring that here. Don't throw rocks here. You don't know how good it is to be here tonight. Just stay this way, please. Keep cool and stay together, please – male and female – because there have been two girls killed and two guys."
Ministers call for 24-hour memorial fast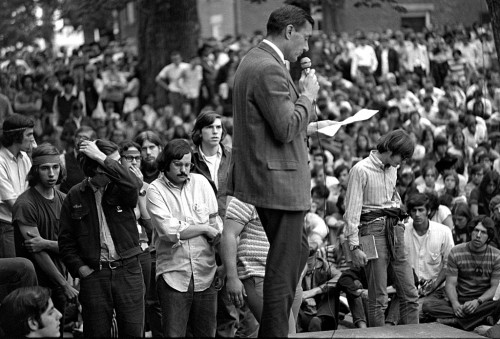 After the young woman spoke, Rabbi Joseph Polak called for prayer, and silence fell over the 4,000 persons on the green. Each minister then offered his own short prayer.
"I'm calling you to prayer for your brothers and sisters at Kent," the Rev. Thomas Niccolls said. "I'm calling you to prayer for your brothers and sisters in Vietnam. I'm calling you to prayer for your brothers and sisters in Cambodia."
"As we pray for the dead and the dying," the Rev. Robert Hughes said, "let us pray for the living and for ourselves. We have seen enough dying and enough pain for a lifetime."
The Rev. Thomas Jackson concluded the prayer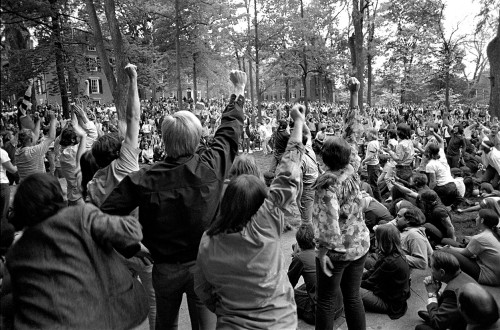 "I've gotta try one more time. I just want a moratorium for one day on the terms 'jock' and 'Greek' and 'hippie' and all the things we use to punch each other out."
Praying the students realize what it's like when people who are shot and killed, the Rev. Thomas Jackson quoted a Kent State student who said he thought the National Guardsmen were firing blanks, "until I saw her head blown open."
"It's time to quit blowing open heads," the Rev. Jackson said. "It's time to quit splitting up and hating and disgusting each other. Can't we just once do it? Just one day, that's all I ask. Please remember that head that was blown open. Do something embarrassing tonight. Like don't kill each other. Like touch someone. Be a fool."
A lengthy standing ovation from the demonstrators followed Jackson's prayer.
OU Closed on May 15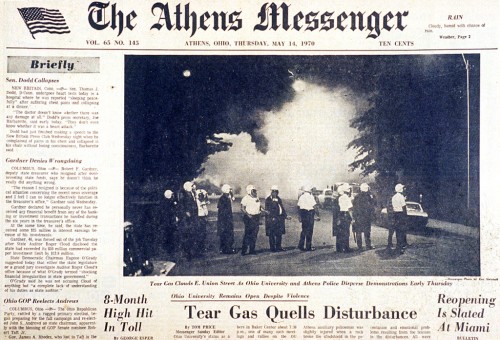 Ohio University managed to stay open until May 15, when it closed after two nights of tear gas and rioting.
Previous posts about the Kent State era