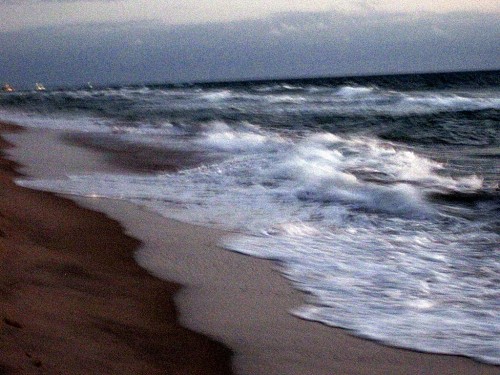 Wife Lila sent me a text this morning: "Can you be spontaneous? Put your pants on and come to the beach to take pictures."
I'm glad she sent it at mid-morning on New Year's Eve. The last time she got one of those "spontaneous" urges, I found myself at Lake Worth Beach on New Year's Day 2010 confirming that, yes, indeed, that bright light in the sky pulls itself out of the ocean at ye god o'clock in the morning. As much as I hate to admit it, she and I took some really nice photos that day. (That's Lila's shot above, by the way.)
She wanted promo photos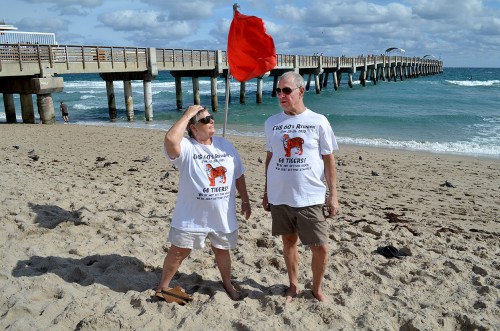 She wanted photos of her and Neighbor Jacqie/Bill Jackson wearing reunion T-shirts to promote the Class of '66 Florida February Extravaganza. What would be better to make people with frozen nose hairs envious than by posting New Year's Eve beach photos? (You can click on the photos to make them larger.)
Here's an announcement she put up on the '66 Facebook page: Classmate Jane McKeown Neumeyer will be in Sarasota, FL during February, so we are planning another luncheon. So far, the details consist of the date… February 6, 2014 … at a restaurant in or near Sarasota. For more information as it becomes available, keep checking Terry Hopkins' website.
She's become a Class of '66er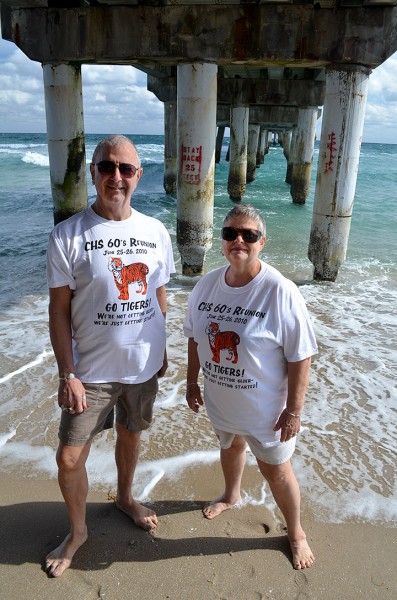 Several years back, she and some of her Central High School Class of 1966 grads (and a few stragglers from other classes) started getting together for lunch once a month in cape. She always made it a point to go when she was in town. When she realized how many Cape folks had moved down to the Sunshine State, she and her Florida cohorts decided to start meeting down here.
Here is an account of their first get-together: The original Florida group members; Lila Perry Steinhoff, Jane Rudert McMahan, Bill (Jacqie) Jackson, and Terry Hopkins met for an inaugural lunch at Dunedin on the west coast of Florida in July. It was a fantastic day with friends, food and so many memories and stories. We talked and laughed for more than four hours and decided we had to do it again. Once we put the word out on Facebook and on the 60s' email list, we started picking up more classmates.
After months of planning and juggling of time schedules, the logistics finally settled and… those living in, visiting, or driving to the Tampa, Florida, area met for lunch at the Thirsty Marlin in Palm Harbor, Florida, on September 9. It was a pretty fantastic day. There was a lot of laughter and memories were shared and stories swapped. Attendees were Jane McMahan, Lila Steinhoff, Bill Askew, Jesse James and wife Margaret, Bill (Jacqie) Jackson, Don Wareing and wife Peggy, Mike Riley and wife Sheila, and Mike Heron.
You can see videos and still photos of the group on Terry's page.
Florida Pigeon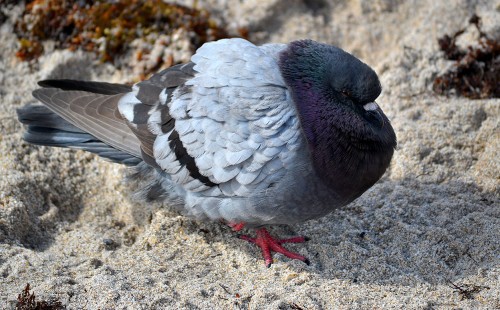 The beach is usually the domain of seagulls, but this morning a contingent of what Wife Lila thought were Florida pigeons had moved in. She thought that because, even though the temps were in the mid-70s, they were all puffed up and some were huddling in deep footprints in the sand.
Bigger than average gull
This was a bigger than average gull and one with a slightly different color than I'm used to seeing.
Speaking of gulls….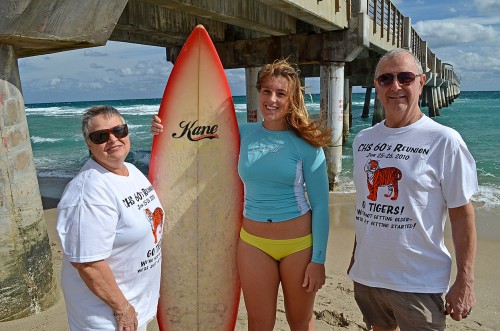 I wasn't really happy with what I had shot of the T-shirted couple so far. That's when I turned and spotted a young woman hauling her surfboard to the water. I walked up, said, "Could we borrow you and your board for a minute?"
With only a second's hesitation, Rachel tucked herself between the old geezers and I made a photo that should entice at least a few members of the Class of 66 to come down.
I sent Rachael a thank-you email, a copy of the photo and some words of wisdom: "I hate to tell you this, but you're going to look like these folks in a blink of an eye. Enjoy life while you can."