After covering the Cannonball run, I almost didn't go to the fair Tuesday night. Then I looked at the 80% chance of rain Wednesday night. I have been to some rainy SEMO District Fairs, and I didn't want to punch that ticket (literally) again.
While I was waiting to turn toward Arena Park, a number of fair announcements flashed up on the sign. One, I thought, said something about tickets being $40. "There better be a place to turn around, 'cause no fair is worth forty bucks," I thought.
I got waved over to a parking place without having to reach for my wallet. That's a good thing. I walked toward where all the action was and saw a sign that said $5. That's more my speed. I got my five bucks worth before the evening was over.
I concentrated on people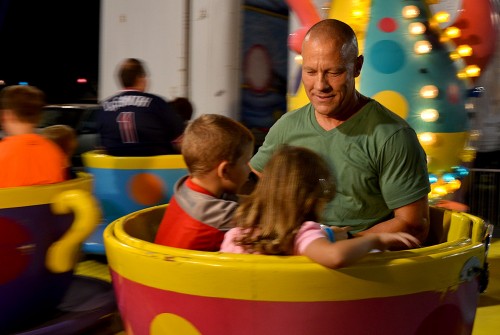 There are some things I should mention: I feel guilty that I didn't see the things off the midway that really make up a fair: the livestock, cooking contests, quilts and crafts …
Since I had a limited amount of time to spend, and because it was so late, I concentrated on the flash and trash of the midway food, rides and games of chance. I also spent more time taking photos of people than things.
I don't do heartwarming much, but I really enjoyed what I presumed to be fathers and grandfathers enjoying their kids.
Older stories about fairs
Photo gallery of 2014 Fair
Sometimes you just have to get out of the way and let the photos tell the story. I've tried to group the gallery somewhat according to subject. That's why you'll find the potato booth together, rides together and games of chance together. Click on any photo to make it larger, then use your arrow keys to move through the gallery.